Tuesday, November 9, 2010
/lk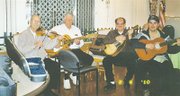 In 1959 Fernando Farias of Sunnyside picked up a guitar for his church, and that was the beginning of a new ministry for the self-taught musician.
Farias and his wife at the time were helping establish Sunnyside's Inglesia El Calvario, now on Morgan Road. He said he began learning the guitar to perform Christian music.
In 1961 Farias' brother traveled to Texas and crossed the border into Mexico to purchase Farias a Vajo Sexto, which can be described as a 12-string guitar.
Farias appreciated the instrument and said the finger positioning took some adjustment.
"Boy, it did," he said, stating converting from six strings to 12 required him to learn several new chords, as well as the finger positions on the instrument.
He learned to play by ear, but he was also able to turn to a neighbor, Santiago Almeida, for some expert advice.
The partnership with Almeida grew and Farias was able to help his neighbor learn how to play Christian music through the collaboration.
Several years later, the duo collaborated with Trinidad Marquez in the formation of the Old Time Fiddler's Association.
Marquez, it turns out, was a piano and violin player. He and Farias had ties dating back to the early 1940s when the pair lived in Texas, but they didn't meet until the 1970s.
"My wife met him when he was living in Mabton," said Farias, stating his wife insisted the pair meet to talk about their love of music. It was when they met the pair realized their paths had crossed several years prior.
They, naturally, hit it off and Farias joined Marquez when Marquez performed at Sunnyside's Hillcrest Manor.
That was in 1980. The duo became regulars at the manor and as they grew in their love for providing music to the elders, so did their ministry.
Occasionally the pair were joined by others as they traveled to various assisted living centers throughout the Lower Valley.
Members of the Old Time Fiddler's Association from time to time also joined in the performances.
Although Marquez passed away a few years ago, Farias has continued to perform.
He ventures to nursing homes from March to October each year, sharing his passion for music and his passion for Christ.
Farias said the passion for his faith has also led to his becoming an ordained minister.
He and his wife helped establish the Sunnyside church, but they have helped establish other churches throughout the region, including a very large Hispanic church in Hermiston, Ore.
Farias said his life is about ministering to others in whatever way possible. Working in adult care facilities like Hillcrest Manor provides him the opportunity to share his faith, continue improving his musical skills and the opportunity to bring joy to others.