Tuesday, November 2, 2010
/lk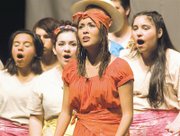 Music, dance, romance and even sword fights are part of the theatre package Sunnyside High School is currently offering in the performance of two one-act plays.
The Little Mermaid and Once on This Island are presented as separate one-act plays and opened this past weekend in the SHS auditorium.
Though two different plays with differing styles - Mermaid is a play with dance and Island a musical - both have a common theme of love conquering all.
The program opens with Island, a vibrant musical pulled off well by the SHS cast and crew.
Ti Moune (Lainey Rodrigez) is a peasant girl who falls for Daniel (Manny Rivera), the son of a wealthy family.
The two leads do a good job with their respective roles, and the rest of the cast is spot on and well directed by Corey Murphy.
The songs are performed nicely. Costumes, art and set design all serve Island well.
The bright and beautiful Island is followed by Mermaid and, in retrospect, it might not have been a bad idea to reverse the order.
Mermaid, too, is blessed with nice sets and costumes, but with no shimmering songs to carry the tale it must rely on actors to sell the story. There Mermaid falters a bit, but it is redeemed by a pair of supporting actors.
Meagan Meyers seems to relish her role as the aptly named Maligna, the Sea Witch. She schemes and snarls and cackles, all the while channeling a great imitation of an evil stepmother in a witchy Stevie Nicks costume from one of the pop singer's late 80s music videos.
By the way, Maligna's Sea Urchin Infantry is a hoot, look for them to emerge from the audience.
The other supporting actor who does a great job of pacing Mermaid is Zane Rodriguez as Booker the Albatross. His comic asides and interaction with the audience make the character a treat.
If you love dance and acrobatics, you'll love both of these one-act performances even more, as the SHS drama troupe shines.
The remaining performances are this coming Thursday, Friday and Saturday, Nov. 4-6, at 7 p.m.