Tuesday, May 18, 2010
/lk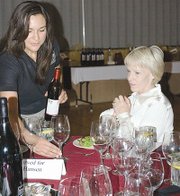 GRANDVIEW - The Yakima Valley Community College Grandview campus this past Saturday hosted its third annual Grape to Glass Gala for the purpose of raising scholarship funds for students interested in the wine and enology program at the college.
But, the event also benefitted students in the culinary arts program at YV-Tech.
Ned Walsh is the YV-Tech chef and Ivone Petzinger is the pastry chef at the technical school. They said there are 55 high school juniors and seniors in the culinary arts program, seven of whom were provided the opportunity to hone their skills at Saturday's event.
"They helped prepare and plate foods before serving them," shared Walsh.
The students took cues from Picazo 7 Seventeen owner and chef Frank Magana and his staff. They prepared hors d'oerves and salads to start the evening. As the evening progressed, the students served those attending the gala, being mindful of proper etiquette.
The gala also included a silent auction and entertainment provided by "Smooth As Jazz," a duo who hails from the Tri-Cities. They performed for those wishing to take to the dance floor following the evening meal.
Viticulture and Enology program instructor Trent Ball said the annual event determines the scholarship funds made available to students interested in the Wine and Enology program at YVCC.
The program serves students at both the Grandview and Yakima campuses. Students at the Yakima campus participate in the program through distance learning.
"The scholarships are based on the amount we raise at the gala," shared Ball, adding both the dollar amount and the number of scholarships available are dependent on the generosity of those who purchased dinner tickets and those who bid on items available during the silent auction.
"The more we raise, the more we can award," Ball explained.
Those enjoying the evening were given menu options, such as Syrah Braised Osso Bucco Style Beef Short Ribs, Mushroom Risotto and Sautéed Seasonal Vegetables. The main course was paired with Yakima Valley Vintners Syrah.
Each of the appetizers was also paired with a wine from the teaching wineries at the college.
Serving the wines were students in the college's viticulture and enology programs. The event provided them the opportunity to exercise public relations skills they will be using once employed at a winery.