Friday, March 26, 2010
/lk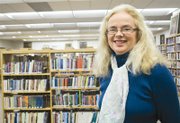 GRANDVIEW - After a long awaited arrival of Geraldine de Rooy at Grandview's Bleyhl Community Library, the director has arrived.
She was scheduled to begin her new duties on Jan. 25, but because of an illness wasn't able to start until two-and-a-half weeks ago. She took the helm at the library Monday, March 8.
de Rooy moved to Grandview after having served as director at Pullman's Neill Public Library.
"The joint library venture between the city of Grandview and Yakima Valley Community College inspired and interested me," she said of what drew her to Grandview.
de Rooy shared she has been involved in library renovations and expansions in the past, but the project in Grandview will be the first she has been involved in from the beginning.
"It's exciting and unique...a joint venture between an academic and a public library," she commented.
de Rooy said the city of Pullman has both an academic and a public library, but the two entities are completely separate. A venture like the soon-to-be built Grandview library piques her interest because of the learning opportunities she believes it will provide.
"It brings a broader service to the community," she shared, stating every job she has sought out has been because of the potential it held.
"It's a process of emerging literacy...for example just in the past 24-hours I have read to 25 children, showing them what the library has to offer," de Rooy continued.
She said the hands-on operation of Bleyhl Community Library is one she feels provides community members with a stimulating experience.
The joining of an academic and a public environment, de Rooy shared, will provide youngsters and others in the community a greater exposure to the academic world.
"Studies have shown that exposure inspires youngsters to pursue academic degrees themselves," she stated.
The groundbreaking for the new library is expected to take place this coming summer and construction is anticipated to be complete in about a year.
de Rooy said her work has just begun, but the transition from the current Bleyhl Community Library to the new library is expected to take place with better ease than if the director's position had been filled once the new library was completed.
"We will continue to be a community library, with the addition of Yakima Valley Community College. The goal is to make the experience hugely positive, ensuring the needs of the community and the stakeholders are met," shared the director.