Friday, March 5, 2010
/lk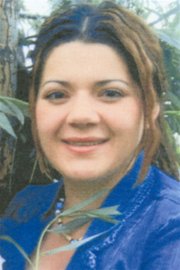 MABTON - Last fall she felt very tired and her bones ached, but doctors from two different hospitals were unable to explain why Gloria "Blanquita" Trujillo of Mabton wasn't feeling well.
The 34-year-old mother of four is currently battling Acute Lymphoblastic Leukemia (ALL) and has the Philadelphia chromosome, making her susceptible to a reoccurrence once she is in remission.
"On November 1st I went to Sunnyside Community Hospital...they thought I had ulcers," Blanquita recalls, stating medical personnel at the first hospital she visited sent her home.
The following day she still wasn't feeling well and was not satisfied with her diagnosis...neither was her family.
"The next day we took her to Prosser," her sister Maria Trujillo recounts.
Blanquita said the doctors there were also wrong in their diagnosis of an infection. "They thought it might be something like the flu. They did an MRI, and sent me home."
Day three of her search for answers didn't go much better.
"We called an ambulance...she was in so much pain," shared Maria.
She said the family was growing more frustrated with every opinion. "We kept telling them they needed to do more, like a CT scan," Maria shares with determination in her voice.
Sensing reluctance from the doctors to conduct intensive testing, family members contacted Kadlec Medical Center and began making arrangements for doctors there to see their younger sister.
"She is the youngest of eight...she is the baby," Maria explained, with a wobble to her voice.
While at Prosser Memorial, the family got on the phone with the Richland hospital and was making arrangements when a physician at the Prosser hospital announced they would perform a CT scan.
Unfortunately, the scan did not show anything was diagnostically wrong with Blanquita, who was still inexplicably in severe pain.
"They gave me pain medicine, but when that ran out on November 8, my sisters Maria and Norma (Olivares) felt we needed to go somewhere else," Blanquita softly shared, as she was weakened from a bone marrow evacuation the day she spoke to the Daily Sun News.
The family wanted a doctor to explain what was happening...why was someone who had been so healthy now so terribly ill?
The two older sisters drove their baby sister to Memorial Hospital in Yakima.
"We told them all we had gone through and my little sister told the doctor, 'I need to find out what's wrong with me'," Maria says smiling.
The family wasn't taking 'no' for an answer and the doctors took them seriously, conducting a blood cell count.
"They found a very high level of white blood cells," shares the older sister. "But, before they told us, my sister says, 'Don't tell me you didn't find anything'," Maria beams at the strength her sister showed amidst the turmoil.
When the doctor explained the high white blood cell count the sisters didn't know what it meant until the doctor explained Blanquita had leukemia.
"They still didn't know what kind," the young mother said.
Her older sister jumped in and explained, "But, they knew it was acute and they had to perform a bone marrow biopsy to find out what kind...that was very painful for my sister."
Blanquita was immediately biopsied and chemotherapy began that day.
"They began intense treatment because that improves her chances of getting rid of the cancer," said Maria.
The disease, said Blanquita, is rare among adults. "It usually happens in children...I have a friend, Javi, in Grandview who is a little boy and we are going through the same thing," she softly shared as her eyes welled up with tears.
"We didn't know what to expect...we didn't know anything about leukemia and it was a scary feeling," the older sister said, stating she is being educated through her sister's experiences.
"We are here to support her...her children and her husband," Maria continued, adding the youngest sibling of eight has the full support of her entire family.
Of Blanquita's children, she said her 10-year-old son understands her condition best. Her 7-year-old son and 5-year-old daughter only understand "Mommy's sick."
"The baby is confused," Maria said of Blanquita's 9-month-old.
Both sisters said the family holds a lot of hope, but Blanquita is in need of a bone marrow transplant so the leukemia doesn't return.
"That is my best chance," a tired looking Blanquita shares.
Of all she is experiencing, she says, "Everyone goes through good days and bad days...some days are harder than others, but everyone experiences that."
Maria adds, "The family has had to make a lot of adjustments...the children had to change schools...we are rallying behind her and adjusting our lives to help her."
Blanquita's husband, Francisco Olivares has also been a great support to her. "He sometimes only gets two or three hours of sleep," her older sister shares.
"He watches her and is with her every minute he has," Maria continued.
Blanquita, with tears in her eyes again, says, "He is doing everything he can to help me too. He still works and cares for me."
She recently completed her fourth round of chemotherapy and just yesterday (Thursday) underwent the bone marrow evacuation, which is similar to a biopsy, to see if the chemotherapy is working.
With determination, Blanquita and her family are convinced she will be rid of the leukemia.
What they wish now is for a bone marrow transplant so that her chances of it returning will be reduced.
For this reason, Inland Northwest Blood Center will be sponsoring a bone marrow registry drive this coming Sunday, March 7, at Concepcion Catholic Church in Mabton. The church is located at Fourth Avenue and Adams Street, and the drive begins at 10 a.m.
It is free to join the registry and requires a simple swab of the mouth, as well as filling out a form. Persons joining the registry must be between the ages of 18 and 60.
For more information or to join the registry, call 1-866-688-1966 or go online at bethematch.org.
- Jennie McGhan can be contacted at 509-837-4500, or email
JMcGhan@DailySunNews.com
photo courtesy of Inland Northwest Blood Center
Gloria "Blanquita" Trujillo of Mabton is a 34-year-old mother of four in need of a bone marrow transplant. She is currently battling Acute Lymphoblastic Leukemia, a disease that typically afflicts children.