Friday, January 29, 2010
/lk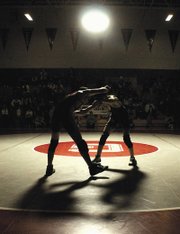 GRANDVIEW - Last night, the Greyhound wrestling team had something to howl about as they secured their second league win of the season.
Grandview (2-7) hosted the Wapato Wolves and won the dual 45-31 to end the regular season.
"Being our last home dual of the season, it was also senior night," Greyhound Coach Jeff Sevigny noted, stating his grapplers were prepared to honor Efren Ramos, Patrick Galvan, Isaac Alaniz and Chris Ramirez with a team victory.
Two of those seniors, Ramos (135 lbs.) and Alaniz (171 lbs.), secured individual wins themselves.
Ramos pinned K.C. Frazier of the Wolves in a hard fought battle of wills. He put Frazier on his back in 5:19.
Alaniz and Wapato's Nelson Hernandez battled for 3:28 before the Greyhound got the advantage and subdued the Wolf.
Wapato, however, took the early lead with 12 points from Oscar Gomez (103 lbs.) and Luis Ayala (112 lbs.). Gomez pinned Grandview's Travis Walker in 55 seconds, and Ayala secured Araceli Granados in 1:54.
Greyhounds Christian Ruiz, Marco Gonzalez, Isaac Perez and Ramos were all hungry for a win and were able to overcome the 12-point deficit, scoring 21 team points for a comfortable lead.
Ruiz pinned Wapato's Daniel Flores in 1:16 in the 119-lb. bout, Gonzalez (125 lbs.) won by forfeit, and 130-pounder Perez battled Angelo Perea of the Wolves to earn a 4-2 decision, avenging a loss from earlier in the season.
Wapato's Eduardo Torres (140 lbs.) earned a 9-1 decision over Grandview's Mario Prieto, and Greyhound Raul Gamboa took Raul Hinojosa down in the 145-lb. bout in 2:38.
Grandview was still in the lead by six points when Wapato's Ricardo Rodriguez (152 lbs.) handily pinned Greyhound Yizreel Isiordia in 30 seconds.
That's when Juan Guzman pinned the Wolves' Jake DeLeon in 2:58.
The next two wins for Grandview were a pin by Isaac Alaniz and a forfeit that was awarded to Chris Ramirez in the 285-lb. weight class.
Greyhound Adam Morales (189 lbs.) lost by pin in 32 seconds and Sebastian Ramirez (215 lbs.) of Grandview lost a 4-0 decision.
Coach Sevigny commented, "We ended the regular season on a high note."
Grandview (2-7, 5-8) will next compete at the CWAC District Tournament in Ellensburg next Friday and Saturday, Feb. 5-6.