Wednesday, January 13, 2010
/lk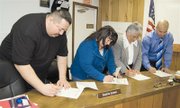 MABTON - The Mabton City Council is considering raising the city's garbage rates by 5 percent.
Council took the topic under consideration last night, Tuesday, during its first meeting of 2010.
The reason for the proposed hike is because the city's service provider, Yakima Waste Systems, is incurring a 14 percent increase in the rates it pays for the using the county's solid waste disposal sites.
Yakima Waste, in turn, is increasing the fees it charges its customers. The 5 percent increase for Mabton residents was requested by the firm.
Under terms of the proposal, a typical Mabton household using three cans would see their garbage rates go up 80 cents per month, from $16.04 to $16.84.
Councilman Mario Martinez asked city staff to look at Mabton's contract with Yakima Waste Systems to see if the company can seek a rate increase when a contract is already in place.
Another question Morales had pertained to the length of notice the firm needed to provide before seeking an increase.
On Monday of this week Yakima Waste sent a letter regarding the rate increase, asking the city to make it retroactive as of Jan. 1, effectively asking the city to approve rate hikes without notice.
City staff will look at the contract and bring the rate request back for review at the next meeting scheduled for Tuesday, Jan. 26.
Mayor Angel Reyna noted that if the increase goes into effect Mabton residents would still enjoy an overall savings on their monthly utility bills. That's because starting in 2010 the city lowered utility taxes by 5 percent, saving the average Mabton household about $4 per month.