Tuesday, January 12, 2010
/lk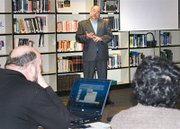 GRANDVIEW - A study by the BERC Group, completed after Grandview High School entered OSPI's school improvement status, shows marked improvement in the number of students who graduate meeting minimum course requirements for college.
Grandview School Board officials were informed of the report by GHS Principal Mike Closner at Monday night's regularly scheduled meeting.
Closner said the report compared Grandview High School to other schools in the state that entered into school improvement status at the same time.
In 2005, 24 percent of Grandview grads graduated meeting the requirements and by 2009, 43 percent did, with the biggest improvement demonstrated in 2008. That particular year GHS graduated 18 percent more students than the previous year.
Closner said he disagreed with the research team in that they did not recognize some courses as college credit classes.
Contributing to improvement Closner said is the fact that GHS students are required to take four years of both English and math, as well as the emphasis at the high school that courses be both relevant and rigorous.
He added there are now 11 AP courses at the high school. According to statistics, he said, if a student isn't exposed to AP curriculum, statistics show the student is only 29 percent likely to graduate from university. If a student takes one AP class, the odds of college graduation increase to 45 percent and if two AP courses are taken it increases again to 61 percent.
Closner said participating in the Gates Foundation sponsored Successful Practices Network, a five-year grant program that expires at the end of this year, helps, too. He informed school board members the Gates Foundation will fund GHS's participation in the network up to 80 percent next year, as well.