Tuesday, January 5, 2010
/lk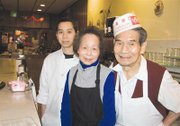 After 57 years in downtown Sunnyside, the Golden Pheasant Restaurant has closed.
Owners Sing Wang and Marina Louie, along with their son Kyle, shuttered the eatery after the last day of business on New Year's Eve.
The restaurant building and accompanying lounge are still for sale, however, and the Louie family is hopeful a buyer will be found.
The building went up for sale a year ago for $365,000 and, according to Mrs. Louie, the asking price is now $325,000.
Sing Wang and Marina, both in their 70s, decided to retire from the restaurant. Kyle is employed at Safeway.
The Edison Avenue restaurant opened in 1952, with the Louie family at the time co-owning the establishment with Leo Yee, Calvin Chin and Wayne Chin. The partners came to Sunnyside from Yakima, where they had worked for the Golden Wheel restaurant.
"There was no Chinese restaurant in Sunnyside at that time," Marina says of the partners' decision to open shop here.
The restaurant building was lost to fire in 1973, but was rebuilt.
In 1990 Sing Wang and Marina became the sole owners of the Golden Pheasant.
The Louie family says it will miss the friendships established over nearly six decades of business.
"We have original customers who bring their kids and grandkids here," Marina smiled. "We are thankful for their friendship and support. We'll miss them."
The family says the secret to success over the years has been good food and the popularity of their combination meals.
With the restaurant closed, Sing Wang and Marina now have extra time in retirement. "We'll relax a little more," Marina said.
Kyle says he also is looking forward to more time with his family since he had been working two jobs.
As for the timing of the restaurant's closure and their retirement, Marina smiled and said Dec. 31 was the last day because that's when the business permit expired.
Sing Wang added with a laugh, "The pheasant has been flying for so long it's tired. It's time for the bird to take a rest!"