Friday, February 19, 2010
/lk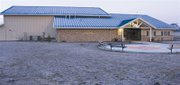 It may very well be the only thing standing in the way of the long-hoped-for reopening of the Sunnyside Community Center is the lack of outdoor lighting.
That's according to Sunnyside's Promise Chairman of the Board Nate Bridges, who said the city of Sunnyside and his organization are currently mulling a partnership to open the center's doors.
Bridges said the city has been looking for ways to get the community center back open and Sunnyside's Promise is in tremendous need of a facility.
Bridges said Sunnyside's Promise has been eyeing the shuttered community center as a possible resource for a very long time.
"We see it as an asset to be used," he said. "We wanted to look at the challenges in getting the building open."
Bridges said his organization didn't have the resources to pay for 100 percent of the expenses of the building, including utilities, maintenance, staff, "all the costs of the community center.
"The city didn't have the resources to do that as well."
As a result, he added, "We're working on a partnership between the city and Sunnyside's Promise, with the city providing utilities, outdoor maintenance, internet and telephone service...the overhead costs."
In return, he added, Sunnyside's Promise would be in charges of operations, including, as Bridges put it, "hiring a gatekeeper, if you will."
That "gatekeeper" would be responsible for manning the center, scheduling, and also adding programs for kids and families.
He said both entities seem willing and are able to keep up their end of the proposed partnership. But, he said, "The biggest problem is the outside lighting is not good...we don't want families, kids, employees coming out of the building after hours after a night of fun, walking across a dark yard to a dark parking lot to a dark car. And we don't want the darkness to prevent them from coming, either."
The lack of outdoor lighting, he said, "may be what prevents the community center from re-opening right away."
Bridges said he's got the volunteers to dig the trenches and hook up electricity. "But we need the lights and the light poles and we've got to find the money."
Bridges agreed that having an engineer or lighting crew step forward and donate the service of providing a design featuring a cost estimate would be a good first step to take.
Sunnyside's Promise Executive Director Mark Baysinger said the University of Washington has contacted his organization and is willing to provide a grant that would pay for operations through the summer, provided Sunnyside's Promise has a facility; UW is conducting a health and fitness study featuring roughly 80 students and is partnered with the school district, Baysinger said. The university wants to partner with Sunnyside's Promise to be able to continue the study through the summer.
The grant from UW, he said, would "fund two staff (members) and all materials that go with that, including sports materials."
Baysinger said Sunnyside's Promise having a facility is one tremendous key to moving forward.
"It just expounds your opportunities in terms of grants and various things."
He was quick to note the potential partnership with the city is about more than just the community center. "It's beyond just the center, it's the soccer fields, too."
He said when it came to dealing with the city, he liked Byron Olson's approach. Olson, the city's Financial and Administrative Services Director, had formed partnerships in Tacoma and wanted to bring that here.
Of the draft agreement, Baysinger said his personal approach was to refer to it as a contract. "Byron said it's not a contract, rather the contrary. He said, 'I'd like to do a partnership'."
Olson said one of his goals is to introduce partnerships in Sunnyside because he's seen the success they can produce. He said when he worked for Metro Parks in Tacoma, individual organizations were having trouble affording services or programs. "Some organizations had facilities but no programs. Others had programs but no facilities."
When it comes to partnerships such as this, Olson said each organization is able to contribute in a financially reasonable way to create a larger good for the community.
In Tacoma, Olson said he learned each organization had enough money to do their little section and their little section wasn't really effective." But when they banded together and partnered, Olson said programs and services took on a new and positive dynamic.
The Sunnyside City Council will review the draft agreement with Sunnyside's Promise this coming Monday at their regularly scheduled meeting.
In the meantime, Bridges has nothing but high praise for Sunnyside City Manager Jim Bridges and his staff. "He's been great to work with," he said of Jim Bridges. "He's listened and he's really done everything in his power to get the community center open.
"He really understands we've got to help these kids...the whole council, for that matter, has been great. We're working really well together."