Tuesday, February 16, 2010
/lk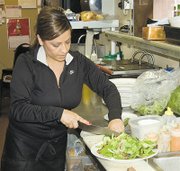 Whether it's catering, cooking, crafting espresso beverages or waiting tables, Mayela De La Cruz does a little bit of everything for Bon Vino's Bistro and Bakery in Sunnyside.
This April will mark her second anniversary at the eatery, which she calls "Sunnyside's best kept secret."
De La Cruz came to Bon Vino's from the Burger Ranch restaurant, also in Sunnyside, where she had been for 10 years.
She says the pace of work is quite a bit different now given the variety of responsibilites she has at Bon Vino's.
"I had never waitressed like this before," she said. Though new for her, she says waitressing is among her favorite tasks at Bon Vino's.
"You get to talk to customers, make sure they are happy," De La Cruz said.
She also enjoys the catering experience in working for Bon Vino's. "Catering is fun," she says. "You get to go out meet new people."
When she does take a turn in the bistro's kitchen, De La Cruz says her favorite dish to cook is pasta.
She also has a firm opinion on her favorite menu item at Bon Vino's when she takes a break for lunch. "I love the Ceasar salads here," De La Cruz says.
She says she likes the atmosphere at Bon Vino's and that the eatery is involved with the local wine industry.
That's an area where she's still learning.
"We have to do a lot with wine here and I don't know a lot about," De La Cruz smiled. "I'm starting to learn it and I'd like to learn more."
Being proficient at several jobs - and a willingness to continue learning - at Bon Vino's keeps De La Cruz plenty busy.
For others considering work in the restaurant or hospitality industry, it helps to be able to wear a lot of hats and, De La Cruz says, know a few secrets of the trade.
"You need to be friendly, courteous and smile," she said.