Wednesday, February 10, 2010
/lk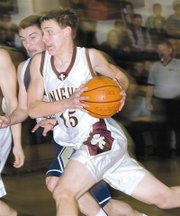 One of the three losses sustained by the Sunnyside Christian High School boys basketball team this season was avenged last night.
The 1B Knights closed out regular season play Tuesday evening with a 53-38 thumping over the visiting 2B Riverside Christian Crusaders. The Crusaders had dealt Sunnyside Christian a 41-35 loss back in early January.
In knocking off Riverside Christian last night, thanks mostly to 6'6" Steven Broersma and sophomore Trevor Wagenaar, the Knights enter this coming Friday and Saturday's District tournament with an 11-game winning streak.
The 6'6" Broersma, a junior, was a one-man wrecking crew against the much shorter, but quicker Crusaders. Broersma dumped in eight of his game-high 24 points in Sunnyside Christian's 10-0 run to open the game.
All told, Broersma hauled down 14 of his team's 23 rebounds last night. That was just three boards short of the entire 17 caroms the Crusaders team was able to scrape off the glass.
Broersma nearly had a triple-double as he also came through with eight blocked shots, which contributed mightily to holding Riverside Christian to just 15-of-43 field goal shooting.
The other star for Sunnyside Christian in last night's non-league game was the 6'2" sophomore Wagenaar. Entering the fourth quarter the Crusaders were within 37-30, but any chance for a Riverside Christian comeback was foiled by the underclassman. Wagenaar popped in all 12 points he scored Tuesday night in the closing stanza, which sparked the Knights to a dominating 16-8 run to close out the game.
To Riverside Christian's credit, after falling behind 10-0 at the outset, the Crusaders pieced together a 19-7 run from midway through the first quarter to just over three minutes remaining in the first half. That put the visitors up by a 19-17 score. The tandem of Derek Byrne and Jeremy Pynch, Riverside's two talented guards who combined for a total of 32 points in last night's contest, led the come-from-behind charge.
But Sunnyside Christian wasn't having any more of that, as the Knights rallied in the final three minutes of the second period with a 7-0 run of its own. The key blow during that closing stretch before intermission was a thunderous, two-handed dunk by Broersma. The Knights went into intermission up 24-19.
Sunnyside Christian drove the first nail into the Crusaders' coffin with a 6-0 run to open the second half. That gave the Knights a commanding 30-19 lead.
The Yakima team fought back to make it a 34-28 deficit early on in the fourth quarter, but that's when Wagenaar took over. He scored 12 of Sunnyside Christian's first 14 fourth-quarter points to push the Knights back out to a comfortable lead. The finishing touch was when Wagenaar bombed in his second long-range 3-pointer, which extended Sunnyside Christian's lead to 47-30.
From there, the Knights coasted to the 53-38 victory.
Complementing the efforts of Broersma and Wagenaar last night were teammates Steven Bosma, Ryker Van Belle and Kevin DeJong. Bosma had several nice drives to the hoop enroute to scoring seven points. He also dished four assists and came away with three steals on the defensive side of the court. Van Belle, too, had four assists and three steals to go along with a four-point effort, and DeJong tallied four points and blocked three shots.
Coach Dean Wagenaar couldn't have been more pleased with how his club finished so strongly down the stretch last night. Especially, he said, against a team the caliber of Riverside Christian.
"It was a very physical game last night," said the elder Wagenaar. "Riverside Christian has always been a tough, grind-it-out game for us."
In looking ahead to this Friday's District tourney opener against Klickitat, scheduled for 7:30 p.m. at Sunnyside High School, Wagenaar is hoping for the same intensity and strong finish from his team. A victory against the Vandals will propel Sunnyside Christian (8-0, 16-3) into the District semi-final tilt, scheduled at SHS for 6:30 p.m. Saturday evening.
"We have some nice pieces to the puzzle right now," said Wagenaar.
"But the regular season is over. The new season starts this Friday, and everyone is back to square one," he said.