Wednesday, February 3, 2010
/lk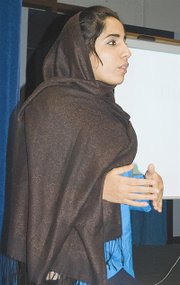 Delta Kappa Gamma sorority members converged at Our Saviour's Lutheran Church on the hill in Sunnyside this past, Monday to hear two young women speak about Afghanistan horrors.
Sisters Heena and Khoshboo Alamyaar shared with the sorority members their experiences of living at an Afghanistan shelter.
The Alamyaar sisters first lived in Afghanistan, which was under Taliban rule. "We didn't have any education during Taliban in Afghanistan (the sisters often refer to Taliban presence as "during Taliban")." Desiring an education for her daughters, their mother decided they should go to Pakistan, where the girls studied for seven years. When it was time to return to Afghanistan, they had to stay in a Kabul shelter, as their mother couldn't afford to take care of them. With educational opportunities made possible by an American university in Kabul, the sisters were able to continue their education and educate others at the shelter.
At Monday night's gathering, the Alamyaar sisters told horrific stories about women who live at the shelter.
Khoshboo told the crowd that many women are victims of violence and some are even married off as early as the age of four.
One such girl they spoke off was married off at the tender age of four. Her husband, Khoshboo said, "locked her in a room without food. (He and his family) wanted to kill her." The girl didn't die, but she was used as a cutting board during mealtime. Now 14-years-old, the girl who is covered in scars from being used as a cutting board lives at the shelter.
"When she was talking you'd start crying and crying," Heena said.
Another woman was in love with a fellow villager, but her father wanted to marry her off to an older man. When she protested, her father killed her love in front of fellow villagers. She ran away to the shelter, but a $20,000 bounty placed on her head by her father remains. For her safety, the woman doesn't leave the shelter. "It's been five years since she's been outside," Khoshboo said.
The sisters also told a tale of deceit. In Pakistan, an elderly couple with a young daughter kept to themselves at home, but had a persistently friendly neighbor. They tried to avoid him, but attempts were unsuccessful. Eventually, the neighbor told them they were invited to a wedding in a town four hours away. After discussing it, the couple decided to go and take their daughter.
The first two days were wonderful, the sisters said, but on the third day the couple began to question when the wedding would be. That's when they were told it was their daughter who would marry a man at the home. The deceitful men had given separate rooms to the parents and daughter, and because she hadn't seen her parents, the girl was told they'd be killed if she protested the marriage.
The Alamyaar sisters said the girl, a dark-haired beauty with green eyes, was beaten every day and often raped. The family escaped at one time, but the girl was kidnapped again. Eventually she successfully ran away and the family ended up at the shelter.
Khoshboo said there are Afghanistan victims who have no voice at all: women who live in "the countryside." The women are viciously abused and uneducated. They have no idea a shelter exists to help them, and women from the countryside often commit suicide to end the horror.
The sisters grew up in a violent culture most people can't even imagine, and they've seen their share of horrors. Heena recounted the horror of seeing a bus blow up right in front of her, courtesy of a suicide bomber. She recalled seeing body parts flying in the air, on the ground and even in trees. "For a week, it was all I could think about it. I would go to school and start to read, but my mind kept (replaying the scene of) the bus."
Heena is passionate about getting her Bachelor's degree and returning to the shelter.
Heena said, "...I want to go back to the shelter and help the shelter. I want to make other orphanages and shelters."
Of living in America, she said, "When I came here I was really happy because I was free. I can go by myself to the college. I don't have to wear the scarf. I don't have to wear the burka. I do things I want to do, not what other people want me to do.