Wednesday, December 15, 2010
/lk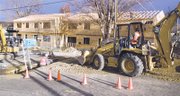 An apartment rebuilding project valued at more than $700,000 led the way in new building starts permitted in Sunnyside last month.
The project will rebuild apartment building C of the Paragon Apartments at 1320 S. 11th Street. Contractor for the project is Casassa Construction of Entiat.
The new apartment building has an estimated valuation of $701,000, accounting for more than two-thirds of the $959,450 in combined valuation for all building starts during the month of November.
Sunnyside city coffers garnered $6,915 in permit fees from the apartment project.
Other sizeable new building starts given the go-ahead during November included a new shop at 3150 E. Yakima Valley Highway valued at $133,000. Columbia River Steel and Construction is the contractor for the project, which will feature a shop for minor tractor and sprayer repair.
Also last month, city officials gave thumbs up for a re-roofing project at the Port of Sunnyside's office at 520 S. Seventh St. The project has a valuation of $24,500.
McDonald's also got the green light in November to erect a $14,874 fence along its eastern property line.
Some new businesses in Sunnyside also received sign permits last month; Bimore and IQ Tax Center at the Mid-Valley Mall, as well as Zingis Mongolian BBQ at 2810 E. Lincoln Avenue.
For the entire month of November, Sunnyside received a total of $12,154 in permit fees for all new building starts combined.