Wednesday, December 8, 2010
/lk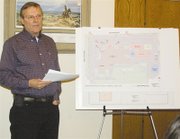 Sunnyside School District Construction Manager Braven Bendzak was the featured guest speaker at Monday's Sunnyside Noon Rotary Club meeting and gave the Rotarians an update on the expansion at Sunnyside High School.
There are two phases to the construction at the high school. The first project is a 40,000 square-foot expansion, which consists of a new, two-story edition. The second phase will consist of modernizing the remaining 169,000 square feet of the school.
Ongoing construction right now will focus on building the new two-story addition and constructing a new administration and counseling area closer to the main northwest entrance. Other work being done in this first phase includes the construction of a new fine arts classroom area.
In May of 2011 the renovation of the existing auditorium will begin. A new stage rigging system will be installed, as well as new theatrical lighting and controls, sound system modification and control booth modifications.
The auditorium will also get new seating, carpet and other miscellaneous upgrades.
The school's locker rooms and gymnasiums will be modernized and refurbished beginning next May. Upgrades will include new restrooms, motorized bleachers and refinished floors.
Bendzak also told the Rotarians the entrances to the parking lot along Edison Avenue will be changed, making it easier to access the parking area. The entrances, he said, will be moved east, which will relieve a bottleneck that forms at the current location of the entrances.
The construction should take two years to complete and the cost is $24.4 million. Bendzak said the main contractor is from Idaho but up to 20 local contractors are being utilized in the construction.