Monday, August 9, 2010
/lk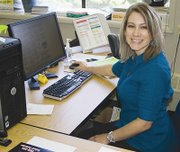 She started her new job less than a month before the start of the 2010-11 school year and, as a result, Yvonne Ramirez has jumped right in to her duties as the Sunnyside School District's nutrition services director.
Ramirez started the new job just last week and says her first priority has been to develop a menu for the 6,000 or so children in the Sunnyside School District.
That's quite a task given that her prior job was organizing meals and nutrition for fewer than 200 children in a Yakima Nation Head Start program in Toppenish.
"I enjoyed working with the Head Start program," Ramirez said. "But I wanted something that was more challenging. When this opportunity came up I decided to give it a try," the Sunnyside resident said.
Part of the challenge, she says, is working with a school district in contrast to Head Start, which is a federal program.
Ramirez said one of her priorities is meeting all of the district's kitchen staff in preparing for the start of a new school year.
She says the district will benefit this year from a grant that will provide fresh fruits and vegetables for Sunnyside's elementary schools. "I'm learning the components of the grant," Ramirez said of jumping into her new post with the school district.
Amidst all the paperwork and clutter of starting a new job so close to the start of a new school year, the WSU alum sets her aim on keeping first things first.
"My goal is make sure the kids are happy with the food and getting nutritious meals," Ramirez said.