Tuesday, August 3, 2010
/lk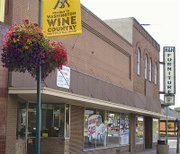 Downtown Sunnyside has lost yet another longtime fixture as H&H Furniture has decided to move elsewhere.
Starting this week H&H Furniture is doing business at 327 Yakima Valley Highway in Sunnyside, the former Thomas Kinkade art gallery.
Mark Peterson is the chief operating officer of H&H and he said the move after 10 years downtown at Sixth Street and Edison Avenue was a necessity for his business.
He said the new location will give H&H more parking and better access for loading and unloading furniture. Peterson noted the location is more visible and gets much more traffic than downtown.
"Next year I think we will hit a double-dip recession. We have to make sure we can weather the economy for another 40 years," Peterson said, referencing the company's 40th anniversary this year.
H&H is a Yakima-based company that sells and rents furniture and electronic equipment.
It first expanded to Sunnyside in 1992 at Mid-Valley Mall. About 10 years ago the company moved to the landmark corner brick building downtown.
"It is a prominent location and that was one of the determining factors for moving there," he said. "Unfortunately the downtown is just about dead, at least in our block. No one comes down there."
Downtown businesses closing in just the past year or so include the Golden Pheasant restaurant and a Prudential real estate office.
Peterson said downtown's demise hasn't been just in the past year or so, it has been a decay over decades.
That includes buildings that have been allowed to falter and fail, and businesses moving out over time, such as the 88 cent store that used to be H&H's downtown neighbor.
He said another blow was city hall's decision to go to a four-day work week. "That cuts down on the downtown traffic by one day," Peterson said.
The biggest problem, he says, is that many downtown landlords have been allowed to ignore upkeep on their buildings, without repercussion from city codes.
"Unfortunately a lot of the places down there have not been maintained by owners," Peterson said.
Jim Bridges is the city's public works director, and he says code enforcement officials are restricted by law to what extent they can intervene with a property owner.
"Our building code and code enforcement people look at exterior building issues," he said. "They drive by and look at the fronts of them but they can't go in unless they're asked to."
Further, Bridges said he would much rather work with building owners.
"I don't like the word force," he says. "I'd like to try to get some cooperation."
That may be, but Peterson says something needs to be done. The decay, he says, can't be covered up by recent beautification efforts, like hanging flower pots. "You can put flowers up but you still have a problem," Peterson said. "It's like painting over rust."
Gerald Roy is the president of the Sunnyside Chamber of Commerce, and he agrees with that assessment.
"Any efforts currently being made by individuals or groups to revitalize downtown are mere band-aids that cover up the true depths of reconstruction needed for the downtown," Roy said.
Peterson says there is hope for downtown, but it's going to take a large, combined effort.
"You can bring people there for festivals, so downtown is viable," Peterson said. "But there is no organization of downtown businesses."
What's required, he adds, is "you're going to have to bring property owners together first and they are going to have to want to increase their property values. The only way to do that is to work in a group."
Roy feels cooperation from all facets of the community will be key to reviving downtown Sunnyside.
"The Sunnyside Chamber of Commerce is concerned about the current state of the downtown area and is committed to the restoration of the downtown corridor, making it into a strong, viable, economic force," Roy said. "For this to happen it will take total community involvement."
The chamber's executive director, Pam Turner, echoed a similar sentiment.
"A successful downtown revitalization requires the cooperation of the whole community, the ideas incorporated must be ones developed and embraced by the community, not forced down their throats by a few individuals," Turner said. "The life of Sunnyside's downtown is dependent upon its heart and soul, the citizens of the City of Sunnyside."
Peterson said Sunnyside doesn't have to look far to find the "heart and soul" of a community that gave its downtown a new life, namely nearby Yakima.
"Downtowns can go through cycles, just like other areas," said Peterson. "Yakima's downtown was really struggling but became real strong with a strong focus when people pulled together."
John Fannin/Daily Sun News
Hanging flower baskets, says H&H owner Mark Peterson, can't hide empty and decaying storefronts in downtown Sunnyside. Downtown's latest hit came this week when H&H Furniture moved from Sixth Street and Edison Avenue to Yakima Valley Highway.