Tuesday, April 20, 2010
/lk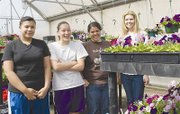 MABTON - Students in Randi Nickels' horticulture class at Mabton High School last trimester planted numerous vegetables and flowers in anticipation of the school's annual plant sale to take place this coming Thursday through Saturday.
Several of the students spent numerous hours nurturing the plants with the assistance of students in the FFA chapter at the school.
"Many of the students in the horticulture class are also FFA members since the two are inter-curricular," shared Nickels, who began working with Mabton students last summer.
Proceeds from the plant sale, an annual fundraiser, benefit FFA programs. Nickels said her students have worked to provide a larger variety of plants and planters for the event.
Nickels brought with her to Mabton the experience and skills learned while working in Elma last year, as well as expertise she obtained while earning her Master's degree at the University of Arizona. At the university she taught ag education undergraduates the art of educating students in the agricultural classroom.
This year, Nickels sat down with one of her fellow educators at Mabton High School and the duo looked at sales figures from previous plant sales.
"We looked at what plants sold successfully and ordered more of those plants," she shared.
New this year are more abundant hanging planters and decorative planters. Nickels said her students used a Tricksy liner to grow fuller arrangements, providing a greater variety of flowers inside.
Some of the more popular varieties of flowers grown by the students include geraniums and petunias.
"We also grew more vegetables," shared Nickels, stating those taking advantage of the plant sale will be able to purchase tomato, bell pepper and cucumber plants.
The students, she said, grew the vegetables from seeds. The benefit of this process allowed them to learn about the germination process.
"They enjoy seeing the results of their work...they took on a sense of ownership in the process of growing the plants," Nickels shared of the students' reaction to the project.
Growing up in Goldendale under the tutelage of her father Terry Nickels, an ag teacher at Goldendale High School, the new Mabton teacher is feeling at home. She said she enjoys working with students, giving them opportunities to learn while they grow plants for the fundraising effort.
Offered at the annual plant sale will be six-cell packs of petunias, lobelia and portulaca for $2; 3.5-inch petunias, lobelia, bacopa, millions bells, verbena, osteo, diascia, creeping Charlie, dracaena spikes, potato vine and argyranthemum for $1.50; 3.5-inch geraniums for $2; two-inch vegetables for 50 cents; six-cell packs of vegetables for $1.50; 14-inch mixed annual pots for $14; 10-inch mixed annual hanging baskets for $12; and eight-inch mixed annual hanging baskets for $8.
The sale will be held at the Mabton High School greenhouse across from Blue Sky Market from 7:30 a.m. to 3:45 p.m. Thursday, 7:30 a.m. to 12:30 p.m. Friday and 7 to 11 a.m. Saturday.