Friday, April 2, 2010
/lk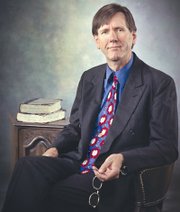 YAKIMA - Glen Warren announced earlier this week that he has put his name in the race for District Court Judge Position 2.
"The length and scope of my experience qualifies me professionally," Warren said. "My upbringing in the Yakima Valley causes me personally to want to give something back, to make a difference."
Warren, who grew up in Grandview, graduated from the University of Puget Sound School of Law in 1977. Following a two-year stint as an associate, Warren began a private general practice, one he has operated since 1980.
"In that time I have trained or employed many legal professionals, including a current Yakima County Prosecutor, a senior attorney with the Office of Assigned Council, the head of the Grant County Public Defender program, as well as several successful private practitioners," Warren said. "And I am proud of that."
Warren held the city of Yakima Public Defender contract for 12 years and was Public Defender for the city of Union Gap from 1989 to 2009. Warren also served as a court appointed arbitrator in Yakima County Superior Court and was recently sworn in as Pro Tem Judge for Yakima County Superior Court.
Warren believes he would bring a needed balance to the District Court between the upper and lower valley.
"Three of the four current District Court judges are from the Yakima area," he said. "I was raised in Grandview. My roots and family home are still located in the Lower Valley. I do public defense work for the city of Toppenish, as well as appearing in private cases in municipal courts throughout the Lower Valley.
In addition to his legal credentials, Warren believes he can be an effective judge by using common sense.
"You have to know when to use the carrot and when to use the stick," he said.