Monday, September 28, 2009
/lk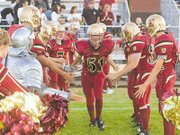 After spotting visiting Arlington, Ore. two early touchdowns due to turnovers, the Sunnyside Christian High School football team rallied before falling 54-26 in its home debut this past Friday.
Trailing 14-0, Ryker Van Belle put the Knights on the scoreboard with an eight-yard touchdown scamper. But the Honkers kept Sunnyside Christian at a two-touchdown deficit, also answering when quarterback Steven Bosma scored on a seven-yard run for the Knights.
It looked like Sunnyside Christian might have a chance to knot the score after Bosma found Steven Broersma on a 52-yard pass and the Knight defense forced Arlington to punt.
Sunnyside Christian had the ball at around its 40-yard line, trailing just 26-20 with about three minutes to play in the half. Any hopes of tying or going ahead on an extra point, went out the window though, when the Honkers threw Bosma for two large losses and recovered a fumble inside the Knight 10-yard line.
The Honkers punched the ball in on the last play of the first half to lead 34-20 at the half.
Arlington opened the second half with a touchdown drive to go up by three touchdowns.
Sunnyside Christian hopes for the non-league game and maybe the season were dashed a few minutes later when Bosma had to leave the contest in the third quarter with a broken collarbone.
Sunnyside Christian Coach Ray Hernandez said the injury means Bosma is lost for the season.
"Coming into the second half we were confident," the coach said. "But when Bosma went down a lot of morale left."
Still, the Knights did manage to score in the second half on a 51-yard counter pass from Van Belle to Broersma.
Bosma was 5-for-5 passing for the game for 108 yards and Van Belle was also perfect in throwing the ball, 2-for-2 for 79 yards.
Bosma and Van Belle also combined for 89 yards rushing and Broersma hauled in seven catches for 149 yards.
Hernandez said his team gave a good effort in the loss, but turnovers - fumbles, especially - continue to plague the Knights.
"We're so close, but it's those mistakes," he said. "A lot of it's learning to play under pressure, it just comes with game experience and that's something the kids don't have a lot of yet."
More pressing for Sunnyside Christian (0-2, 1-3) is finding a new quarterback with Touchet coming to Sunnyside this coming Thursday for a 7 p.m. game.
Besides pass attempts from Van Belle, a running back, Grant Stutesman finished up at quarterback on Friday. Hernandez said it will be a wide open search for a quarterback at practice today.