Friday, September 18, 2009
/lk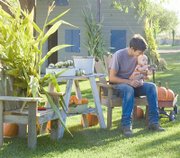 GRANDVIEW - Good, wholesome family fun, a chance to delight in the great outdoors while creating new memories-that's what the Micheners, who own Bill's Berry Farm, have to offer guests during Apple Festival, slated to take place every Saturday from tomorrow to Oct. 24th.
The festival consists of trekking to the Michener family farm a few miles north of Grandview, parking the car and enjoying the visiting area the family has set up. Soon, guests will be whisked away in a hay ride straight to the orchard where apples are ripe for the pickin'. Right now, Golden Delicious apples are ready. Soon, the Braeburns, Granny Smiths and Cameos. Michener said, "They can walk if they want to walk to the orchards, but the hay ride is much more fun.
"We want this to be a family fun-type farm, something clean and wholesome parents can do with their kids," said Julie Michener, the matriarch of the farm.
When guests return to the visiting area, they have the option of pressing their fresh picked apples into cider. That's an activity that tends to amaze guests, Michener said. "Most people have never even seen that process," she said. "People aren't buying cider. They've bought apples and they're making their own. Most people have never done that and it always intrigues them."
She added that people are often in awe once they get into the actual orchard because the number of apples on the trees is so incredible.
When guests return to the visiting area, there will be plenty of fruits and veggies to choose from, including locally grown peaches, nectarines, Italian prunes, potatoes and tomatoes. There's also lots of gourds, pumpkins and decorative Indian corn. There's even home décor.
Young Andrew Michener, 8, was looking for a job to take ownership of during the Apple Festival. He found his niche in selling the decorative fall corn stalks and wheat bundles and he'll also be tasked with selling soda, water and juice during the Saturdays of the festival. "That's his endeavor," explained the matriarch, "His little business this fall."
Young Kalley, 5, has struggled somewhat to find her business role during the event. But at last she landed on selling fresh cut flower bouquets with big sis Larelle, 20. The sisters are hoping to take advantage of summer's last full blooms.
Sons Jace, 19, and Brian, 16, are the handymen of the family, along with patriarch Bill. Jace welded the frame for the ever popular "barnyard train," while Brian's masterpieces, shabby chic outdoorsy furniture, are dispersed about the lawn. Young Luke, 3, busies himself in the playhouse, which will be open to young visitors. Even the youngest Micheners, Lindsey and Levi, have a job-at six-months-old, it's their job to simply look cute.
The barnyard train, featured at this year's Grandview community parade, will be available to youngin's during Apple Festival. And orders will be taken for more of Brian's classy, simple and elegant lawn furnishings.
Even Mrs. Michener's sister is assisting with Apple Festival-it's her ponies young children can ride.
Michener is hoping to add in the pagoda craft activity demonstrations. She'd like to see crafters set up for the day, selling their wares while giving brief, hourly demonstrations as to how those crafts are made. That won't happen by this Saturday, but Michener's hoping to get it lined up for future Saturdays.
In the meantime, Apple Festival will also include plant sales, like blueberry, mums, kale and cabbage.
Visiting the farm, says Michener, "Is an excellent time to enjoy farm life."
And she's right, with its picturesque setting and all the Micheners have to offer, Apple Festival is the ideal opportunity to herald in the fall season.
Apple Festival hours are from 10 a.m. to 6 p.m. and the Micheners are hoping other families will avail themselves to another indulgence they themselves enjoy: picnicking on the farm yard, whether it's a mid-morning or dinner meal.
There's no admission fee for visitors to Bill's Berry Farm. There's no charge for the hayride to the apple picking orchard. There is a cost for the apples, but no charge for families to make cider. There are small fees for the pony rides and barnyard train.
Apples can be picked by the pound, box or bin.
For those who can't make it during Apple Festival Saturdays, private tours are available during other days of the week by calling 882-3200 or emailing to info@billsberryfarm.com. The Micheners also host birthday parties at a cost of $5 per child, which includes a barnyard train ride, hay ride, apples, stickers, a baby pumpkin and juice. Pony rides are available at birthday parties for an additional fee of $2.