Tuesday, September 8, 2009
/lk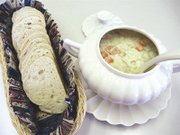 Community members seeking ways in which to reduce or eliminate meat products from their diets are being offered cooking classes based on the vegetarian food pyramid.
The classes, taught by Registered Nurse Cherelyn Strickland, who also has a Bachelor of Science degree in nursing, and nutrition educator Jennifer Foster, will be held at Sunnyside's Seventh-Day Adventist Church beginning Monday, Sept. 14.
Strickland educates students in Yakima Valley Community College's nursing program at the Grandview campus and Foster is a nutrition educator at Heritage University.
The duo has a vast amount of experience and knowledge in meeting dietary needs and they want to share that experience, inspiring others to develop healthy eating habits.
Strickland said participants are not required to pre-register for the class. She said those attending will be provided an opportunity to learn how to prepare meals with grains, fruits and vegetables.
"This provides meal plan options for those wanting to eat healthy," she stated.
The meal plans can be utilized for those seeking to become vegetarians or those seeking options that reduce the amount of meat contained in their diet, said Strickland. She added those with diabetes can also benefit from the meal options offered through the class.
There are three types of vegetarians, according to literature being provided to participants of the cooking class. There are vegans, who abstain from eating all animal products, including milk, cheese and eggs.
Another type of vegetarian is the lacto-ovo vegetarian, who will not eat meat, but will consume dairy products and eggs.
The third type of vegetarian is a pesco-vegetarian. These individuals eat dairy products, eggs and fish, but not any other type of meat.
Healthy alternatives in the diet are included in the cooking class, in which participants will be taught to substitute refined flour with grains and beans and other sources of protein to replace meat, according to Strickland.
The first night of the four-night class will be Monday, Sept. 14. Participants will learn about the benefits of grains, she said.
On the second night, Monday, Sept. 21, participants will learn about vegetable recipes and options for creating a nutritious meal.
Protein, said Strickland, is the third night's focus on Sept. 28. She said soy and wheat-gluten as well as a number of other protein sources will be used in creating meals that appeal to the palate.
Monday, Oct. 5, those attending the class will learn about the benefits of fruit, as well as how to create desserts and sweets.
"They will learn how to combine everything learned during the four nights to make a well-balanced meal," said Strickland.
In addition to learning about vegetables on the second night of the class, participants will be provided a free blood pressure check and a health age computer analysis.
Each night, said Strickland, a short video will be presented, impressing upon the participants the importance of a healthy diet, and door prizes will be awarded.
Those attending the class will also be able to sample a number of dishes provided each night, as well as watch as the educators and other volunteers demonstrate preparation techniques for meals.
Included with the $15 fee for the class is a three-ring binder containing nutrition information and recipes. The participants will be able to take the instruction materials home to create their own meals from the suggestions provided.
The four classes will be held at Sunnyside's Seventh-Day Adventist Church each Monday, Sept. 14 through Oct. 5, from 7 to 8 p.m.
For more information call Strickland at 830-2046.