Thursday, October 22, 2009
/lk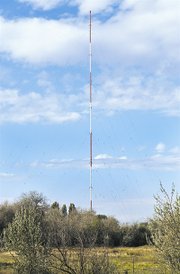 The radio tower just west of Sunnyside no longer has a functioning beacon at its top.
The Federal Communications Commission (FCC), according to Ruben Muniz of Bustos Media, the owner of the tower, notified KDYK 1230 AM about the problem approximately 10 days ago.
"We immediately filed with the FAA," said Muniz.
He said an engineer has assessed the problem and determined the malfunction is due to a faulty fuse.
"It is being repaired within the next 10 days, probably this weekend," Muniz shared, stating Bustos Media operates several radio stations in the Yakima Valley and Columbia Basin.
He continued, saying, "We received approval from the FAA this past Tuesday to repair the light."
Because of its stake in the community, Muniz said, his company takes public safety seriously.
"The towers we own are always an adventure...it seems we always need to repair them, but as soon as we are made aware there is a problem, we take care of it," he shared.
Muniz said Bustos Media also appreciates and encourages residents noticing a problem with one of their towers to call the company at 509-457-1000.
"It is like a neighborhood watch," he explained.
If the Sunnyside tower is not repaired in the next 10 days, Bustos Media must file another report with the FAA explaining the delay and asking for an extension, but Muniz does not anticipate that happening.
The malfunctioning light on the Sunnyside tower could pose a risk to air navigation in the area.
"We care about safety...we care about the community and want to fix this as soon as possible," he said.
The KDYK tower is approximately 230 meters above sea level, and it is approximately 105 meters above ground level, according to the FCC.
Muniz said it serves radio listeners from Toppenish to Grandview.
Radio towers have to be registered with the Federal Communications Commission (FCC) and the agency's rules require owners of towers generally more than 200 feet tall to be on file with the Federal Aviation Administration (FAA).
The FCC's antenna structure registration program allows the agency to require painting and lighting on structures that may pose a hazard to air traffic.