Thursday, October 22, 2009
/lk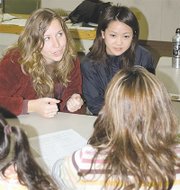 A group of University of Portland students and faculty members converged on Sunnyside yesterday, Wednesday, to help with ESL classes at Nuestra Casa.
Students at the university are on fall break now and before the break they applied to go on an alternative break trip.
Called the Rural Plunge, the annual trip made by University of Portland students brings them to the Yakima Valley where they learn about the history of the farm workers' movement, the current conditions in farm working communities and they also become more connected to their food sources.
Elle Hoxworth, a junior at the university and the student coordinator for the trip, said the Portland students came to Nuestra Casa so the students could have an opportunity to work hand-on with the people in the community.
They spent an hour and a half speaking with ESL students at Nuestra Casa.
"It is a great opportunity for students to hear stories about people in the community," Hoxworth said. "We're speaking with them in English. Pronunciation is the hardest thing and having conversation with them makes the learning process easier."
She said by volunteering with the ESL students the college kids were able to see how hard it is to come to a new country and start over. She said the students were impressed with how hard the ESL students worked, how positive and full of energy they are.
"Their attitude is so uplifting and positive," she said.
Sister Mary Rita Rohde, director of Nuestra Casa, said what the Portland students do really helps her students, adding that her students would like to have this kind of help every day.
For University of Portland student Ben Cilwick, the experience was good, he said. Cilwick was able to see the root of the problem and saw the need for classes like those at Nuestra Casa.
For Rachel O'Reilly, the experience was enlightening.
"It's great to be able to speak with some residents of Sunnyside," she said. "We can learn more about their lifestyle."
The group from Portland arrived in Yakima Valley last Sunday and will head back home this Friday.