Thursday, October 15, 2009
/lk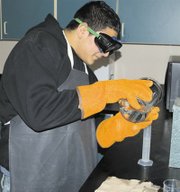 Sunnyside High School students in Joyce Stark's forensics class are learning how to separate DNA and will soon use their newly learned skill to solve a crime.
Stark said the students will use all of their skills, such as tracing diseases and infections along with DNA separation, to solve a mystery that will be presented to them later this month.
The students used gel electrophoresis as the technique to separate the DNA. This method separates molecules on the basis of charge, size and shape.
The gel is made by dissolving agarose powder in a buffer and boiling it. The solution is then cooled and poured into a mold where it solidifies. The gel is then submerged in a buffer-filled chamber which contains electrodes.
Samples are then prepared by mixing them with a dense solution, which makes the samples denser than the electrophoresis buffer.
A direct current power supply is then connected to the electrophoresis apparatus and current is applied. Molecules are then separated by negative or positive electrodes.
After this is complete the molecules in the gel can be stained to make them visible.
Gel electrophoresis is used in forensics, molecular biology, genetics, microbiology and biochemistry.
The equipment used in these experiments is on loan to Sunnyside High School from Washington State Univeristy.