Friday, October 9, 2009
/lk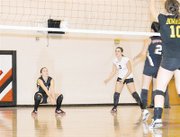 The Sunnyside High School volleyball team was swept last night, Thursday, in competition at home by Richland.
The visiting Bombers had to fight to secure the 3-0 win. Richland came out on top in game one by a 25-16 score, then had to scrap to put Sunnyside away in game two with a 25-20 win.
Richland wrapped up the match by defeating the Lady Grizzlies 25-12 in game three.
Bright spots for Sunnyside included 17 perfect passes by Alissa Martin. Also aiding the Lady Grizzly effort were Kiana Ramos and Jessie Robert, with two kills each. Robert also served one ace to spark the Sunnyside service game.
Jill Spini and Hannah Marro led Sunnyside's attack at the net with five and four blocks, respectively.
The Lady Grizzlies return to action next Tuesday at Moses Lake.