Thursday, October 8, 2009
/lk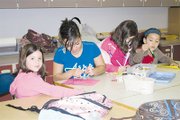 Home economics isn't what it once was. Students at Sunnyside High School can now obtain college credit through the childhood development and early education classes provided there.
Teacher Roxanne McNerney said students learning to care for youngsters now have the option of going beyond the babysitting classes of yesteryear. There are three classes provided at Sunnyside High School, and many of her students take the classes to pursue careers in an educational setting. Those careers include daycare, pre-school and teaching.
Each level of childhood development must be passed before a student can take the next. The first class is childhood development. The next level is early childhood education and the third level is an independent study course in education.
The high school students at the second level are in charge of Cub Care, a daycare program that takes place from 7:15 to 8:10 a.m. each day.
Pre-schoolers and elementary school students throughout the Sunnyside School District attend the early morning daycare. They participate in a number of activities while at Cub Care.
"When the children first arrive they have 'free choice,' which is where they select their own activity," said McNerney.
The activities are supervised by the high school students, referred to as "teachers."
"It is interesting to see the difference between activities selected by the boys and girls. The boys like active games and the girls like more subdued activities, such as coloring," said McNerney.
Her students must plan the activities that follow breakfast. Those are learning opportunities for both the children and the student "teachers."
"The teachers pick a reading, writing, math, art, social studies or science activity," said McNerney, adding the teacher also provides homework help for the younger children.
There are 12 teachers and 35 "registered cubs" in the program. McNerney said it is important to limit the number of children enrolled for the purpose of keeping the teacher-student ratio down.
Sunnyside High School has been providing the program for four years and some of the youngsters in Cub Care have been attending each of those years.
The high schoolers, said McNerney, learn important skills in dealing with youngsters. They learn a child's developmental age can be different from the chronological age and must plan activities appropriate for the developmental age.
Those who receive an A or B grade also earn college credit through Yakima Valley Community College.
McNerney said the program also provides the "cubs" with role models whom they can look up to.
"They do know these are high school students, but they learn those students are their teachers here," she explained, saying both the children and the high school students benefit from the program.