Wednesday, November 4, 2009
/lk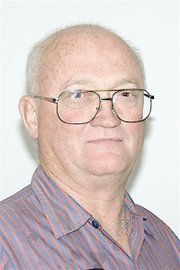 Though by the narrowest of margins, the tally from last night's general election shows all three Sunnyside City Council challengers holding a lead.
The early lead by all three challengers comes during an election year in which the Sunnyside City Council approved a controversial stormwater fee and fired a city manager after less than a year on the job.
Early results from Tuesday's general election show former councilman Mike Farmer garnering almost 60 percent of the vote in a lead of 519 to 356 over incumbent Jesse Hernandez Jr. in the city's District 2 race.
"I am happy with the results of the election. The voters made a statement that they were not happy," said Farmer. "We have a great town and we just need to move forward. I am ready to do just that."
Over in District 3, challenger and former councilman Don Vlieger held a much smaller lead of 445 to 419 over incumbent Carol Stone.
Vlieger says the early results are a good sign.
"In my experience, a challenger always does better in late returns," he said. "I feel good about things."
If Vlieger's lead holds, Stone says, "I am there for the rest of this term. I'm not abandoning or quitting."
Stone says she's still waiting to see what the next ballot count shows.
"Not all the votes are in. I would hope Sunnyside does not go backwards."
In the closest race of the entire Yakima Valley, District 1 challenger Jason Raines clung to a one vote lead, 427 to 426, over incumbent Theresa Hancock.
Raines expressed hope despite the razor-thin edge.
"I am optimistic about the early strong showing, and eagerly waiting the next day's (Wednesday's) results," he said.
When asked why he thought the race was so tight, Raines replied, "I think a lot of people are giving serious pause and consideration to where the council is leading us and the direction they're taking us."
Of last night's initial count, Hancock said, "It was a tough year trying to change the culture of city hall, to make staff more responsive to council."
She added, "There were tough decisions, I wouldn't change those decisions." Hancock also reiterated her opposition to last year's budget decision to make cuts and give staff pay raises.
If Raines' lead holds, Hancock said, "My only hope is that some of the things we started to implement will continue."
In one other council position, Nick Paulakis ran unopposed for the District 4 seat and garnered nearly 99 percent of the vote.
Hernandez did not return messages seeking comment.
Not including ballots mailed yesterday, there are approximately 450 ballots left to be counted in Sunnyside. The Yakima County Auditor's office will officially validate the outcome of the 2009 general election on Nov. 24.
If the Raines/Hancock race continues to stay nearly even, it may take longer to decide a winner.
Yakima County Elections Manager Kathy Fisher says an automatic machine recount kicks in for those races decided by less than one-half of 1 percent. Races decided by one-quarter of 1 percent will generate a hand recount.
As of last night, Raines led 49.71 to 49.59 percent.
The auditor's office will release updated election results at 4:30 p.m. today.