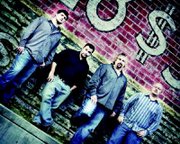 Ned Crisp's "Bottomline" bluegrass band is making a return trip to Sunnyside, with a concert slated for Wednesday, June 17, at 5:30 p.m. at the Centennial Park bandstand.
The concert comes courtesy of the Sunnyside Friends of Bluegrass organization.
While the concert is free to the public, bluegrass friend Dr. Randall Schuler is hoping to get sponsorships for the June concert.
"We got donations last time Bottomline was here," explained Schuler. At that time, he said, "A lot of doctors sponsored it."
This time, he's hoping the community will feel compelled to donate to the organization.
In the past, he said, "We've tried to get 10 people to throw in $100. That's how we've been able to sponsor the concerts."
There's been a demand for the bluegrass concerts and Schuler has fielded more than a few calls with people querying about this concert season.
"Quite a few people have called and (asked) when we're going to have a concert," Schuler said.
While Bottomline is in the Yakima Valley, several performances are scheduled, including one in Yakima. To see that concert, though, there will be a charge.
Those attending Sunnyside's free concert are encouraged to bring a picnic and chairs. Those opting not to picnic can sup on cooking by Roger Hazzard of Bon Vino's fame. "He puts on a real nice spread," Schuler said. "We're so lucky to have him here."
This will be the third time Bottomline will make an appearance in Sunnyside.
"They love coming to Washington," Schuler said.
Cousins Ned and Don Crisp formed a band at a young age. Later in life, they formed a band called The Blackbottom Review. After splitting up, they later re-formed in what they refer to as an "act of fate," according to Ned Crisp, and formed Bottomline.
Bottomline is billed as a high-energy band that offers traditional and contemporary sounds of bluegrass and bluegrass gospel.
Crisp said that last time he was here, CD sales were a success. He's hoping to bring a brand new release when he comes to the Yakima Valley in June.
Schuler said the bluegrass concerts are getting better and better attendance.
"Last time they were here, we had about 200 (people), but it was cold," he said. "We'd like to see 500."
To donate to the Sunnyside Friends of Bluegrass, call Schuler at 837-7933.