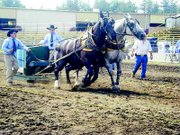 GRANDVIEW - After a long absence a crowd favorite will be back at this year's Lower Yakima Valley Fair and Rodeo.
Organized by Bryce Humpherys, the horse pull event will be held Friday, Aug. 7. The time of the event has yet to be announced.
Humpherys has a love for draft horses and is involved with a local 4-H Club.
"I began talking with parents and 4-H leaders and found they were nostalgic for the horse pulls," he said.
Draft horses are the big ones, like Clydesdales, Shires and Belgians, that were used by farmers to plough fields and do other heavy work before machinery became available.
The horse pull competition will pit teams of horses against each other to see how much weight they can pull.
The teams will try to pull a weighted down sled a set distance. If the team of horses can complete the distance required, the team moves on to the next round, where more weight will be added to the sled.
Humpherys contacted the Washington Draft Horse Pullers Association and already has teams lined up for the event.
"They were thrilled," he said. "The association has quite a few members that are excited to come to the fair. Some of the members used to participate back before when horse pulls used to run."
Humpherys said owners of local horse teams are invited to participate, as well.
Sign-ups for the event will be on Friday, Aug. 7, the day of the event. Humpherys said he is also looking for volunteers to help with the event and sponsors. He also needs up to 8,000 lbs. of weight to place on the sleds.
To contact Humpherys call 305-6845.