Tuesday, March 31, 2009
/lk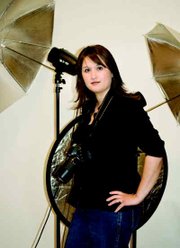 GRANDVIEW - Chriss Radach relishes life behind the lens, capturing candid moments on film. Now she's decided to take that passion and transform it into a business.
Chriss Radach Photography officially launched this past February.
Radach has been studying photography for years, but when her son Dylan was born little more than seven years ago, it sparked a lasting inspiration.
"After Dylan was born, that's when I invested in my first SLR camera," she said.
For those of you who aren't familiar with the lingo, SLR means single lens reflex. This allows the photographer to change lenses and control everything from exposure to focus.
"It's definitely different than your point and shoot camera," she said.
Currently Radach's gone digital. A third bedroom in her home in Grandview serves as a studio that can be used for portraits.
Radach said she always knew she'd eventually become a professional photographer. She opened her business now because she was getting referral after referral after referral.
Radach specializes in family portraits, weddings, senior class pictures and children's photos. She has a particular soft spot for children's photos.
"I love doing children, I think maybe just because I have my own kids. So far, that's what I've done the most of."
Radach said, "I love the product afterwards, especially with kids. You can see the most craziest looks, the most sincere looks that you can capture. You capture who they are, their personality."
Radach is currently organizing portrait parties. How it works is a person hosts the party and invites at least four guests. Radach takes photographs and for the guests, waives half of the sitting fee and gives up to two free prints. The hostess earns a free sitting and receives a set of more than eight free portraits. It can be indoor, outdoor, or even in Radach's studio.
She does the same for children's birthday parties. She recently photographed a group of young girls all dressed up in their Hannah Montana outfits.
She also likes to tinker in Photoshop with the finished product, antiquing the picture and creating black and white pictures with a twist. She recently took a portrait of a friend holding a red guitar. Radach made the entire photo black and white, but left the guitar red.
Radach lives in Grandview with her husband, Nathan, and sons Dylan and Josiah.
To reach Radach at her studio, call 882-5919.