Friday, January 30, 2009
/lk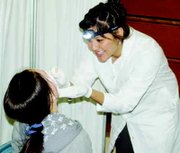 St. Joseph's gym in Sunnyside was turned into a veritable mall for services and assistance to homeless people in the area yesterday during the fifth annual Point In Time homeless census in Yakima County.
Suzi Carpino of Sunnyside helped organize Thursday's homeless count here and she said things were running smoothly. Just before noon she estimated there already 100 homeless people in the Sunnyside area who had participated in the census.
Sunnyside had 40 volunteers who assisted in administering the surveys, Carpino said, adding that some volunteers made visits to homeless locations to help create a more accurate count.
She said things got especially busy when a soup kitchen opened for lunch yesterday.
"We should have more register this year than last year," Carpino said of the 300 homeless people in Sunnyside who participated in the 2008 census.
There was no shortage of services available for the homeless yesterday. Besides the soup kitchen, there were tables covered with clothing items that had been donated, as well as stations for receiving free vaccinations and dental inspections.
A cell phone company was also on hand providing the homeless with free phone calls to family members. Department of Licensing officials also had a table set up where the homeless could receive identification cards.
The combination of additional services and tough economic times prompts county officials to think the numbers will go up this year from the 1,023 homeless people who participated county-wide during the 2008 census.
Typically, the survey tally represents about one-third of the total homeless population, according to a formula developed by the federal Department of Housing and Urban Development.
"We're expecting to see more homeless people this year than in previous years," says Tim Sullivan, the county's housing and homeless programs manager.
Although the survey is anonymous, it does record the family status, duration of homelessness, and factors contributing to the homelessness of participants. It also notes the age of participants, source of household income, veteran status, and tribal affiliation along with their needs for support services.
From this data base, Sullivan explains, local service providers can project the need for services in addition to housing that would help people who are currently without homes regain their independence and become self-sufficient.
Besides Sunnyside, yesterday's homeless survey was conducted in Yakima, Wapato and Toppenish.