Friday, February 27, 2009
/lk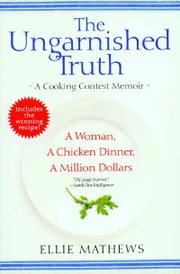 A cooking contest memoir is not my cup of tea when it comes to reading material, but that is the sub title of The Ungarnished Truth by Ellie Mathews, a million-dollar winner of the Pillsbury Bake-Off. Since it is the book that was given to me to review for these pages, I switched my mind to an unbiased mode and began to read.
When I came to page 42 and read "I knew how to put the most basic scoop of rice, piece of fish, and green something-or-other on a dinner plate, whereas I did not know how to lose a sister," I realized that Mathews had put more than flour, sugar and butter into these pages. There is meat--and plenty of it--seasoned with a spicy mix of two former husbands and a current winning third, a bout of depression, and more family deaths in a year than any one person should ever have to cope with.
Mathews dealt with all that by cooking. "My world had spun out of control everywhere but in my kitchen. An egg was still an egg and a loaf of bread would still cut into approximately 16 slices," she wrote.
While The Ungarnished Truth is a true story about how one cook,who knows her way around a kitchen, concocted a chicken dish that convinced a panel of judges it was worth a million dollars, it is also the story of a woman who isn't afraid to reveal her own weaknesses and let us guess at her strengths.
As I am sure Ellie Mathews intended, I took with a grain of salt her not-so-subtle put-downs of those who won contests she did not. Those who scored over her in contests other than the big Bake-Off included her husband and a daughter, who was 15 years old at the time. Obviously, Mathews fosters a family of creative cooks as well as being one, but she sliced them up right along with the seasoned kitchen artists who bested her.
In this 267-page paperback, Mathews puts her tongue firmly in her cheek while certainly not holding it--a trick of the pen that deserves its own prize. She pulls no punches when she tells us of the pressure she felt to perform as Alex Trebek pronounced her the Bake-Off winner in a live televised moment.
A private person who said she truly never expected to win, Mathews felt she let the host of Jeopardy down when she failed to squeal, scream, laugh, cry or show other exuberant emotions. Instead, she writes, she noted that the cloth of Trebek's jacket felt like cashmere when she gave him the hug he had suggested her frozen form provide.
Televised interviews with Oprah and Rosie O'Donnell were eye-openers for Mathews, who was invited to be their guest. She lets us peek behind the scenes to see just how a million-dollar winner from Seattle is treated by the big stars. And when you read page 257 you will know why all the people in Oprah's audience go crazy when Oprah makes her entrance.
The expectations some people seemed to have about how a grand prize winner should behave and what she should write kept Mathews from putting her contest experience and the resulting publicity on paper until last year, 10 years after she won the Bake-Off. In a telephone interview this week from her home in Port Townsend, Mathews said she did make an attempt to write her memoir after the contest "but it was just all wrong" so she put it aside.
"It took me quite a while to absorb. I treasure privacy and value openness, and can you imagine the situations that gets me in," she said, laughing.
"But I believe as people open to each other, just in a human way, it advances us as a society," she added seriously.
"I think it's appropriate to say I'm private," she admitted, "but when you are in the writing process, I'm the one who shapes the story and decides to what degree I open up. It's a very safe way of revealing myself, rather than someone kind of yanking on me saying 'do this, do that'."
In The Ungarnished Truth /A cooking contest memoir Mathews has done her readers the honor of opening up and revealing herself so that we can see the person behind the apron. (Although I am not at all sure this professional woman wears a Betty Crocker-type apron.) She wrote the award-winning children's book The Linden Tree, has just turned in a manuscript for a young adult book, and has another memoir in the oven.
The last words of The Ungarnished Truth are words of encouragement to any one who would like to take a stab at winning a million.
"I meet people all the time who say, 'Gee, I didn't know real people ever won those things.' I'm here to tell you we do," she writes.
If you are so inclined to follow in Mathews's footsteps, check out Pillsbury Bake-Off.com for details for this year's contest, then run to the store, stock up on Pillsbury products and let the games begin!
The hardback version of The Ungarnished Truth, published by Penguin Group, came out in March 2008. This March Ellie Mathews's story will be served up in paperback, and for $15 it can be yours. More on Mathews is available on her website: elliemathews.com.
Oh. Why is this book entitled The Ungarnished Truth? The expert cook forgot to add a garnish to her contest entry.
- Frances Potts of Sunnyside is a retired journalist, having worked at several newspapers throughout Washington state as a reporter, editor and publisher.