Friday, February 20, 2009
/lk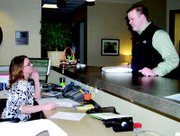 Being a relationship manager is "a glorified way of saying I am a loan officer," according to Craig Shindler of Northwest Farm Credit Services.
He meets the needs of customers at the Sunnyside branch, building loans that will help agricultural businesses grow. He said understanding ways in which a loan can not only benefit a farm, but provide financial returns is essential to his responsibilities.
"I need to understand the financial needs and develop a loan specific to the financial well-being of the farmer," said Shindler.
He said Northwest Farm Credit Services prides itself on the ability to develop relationships with its customers within the agricultural community.
In addition to providing loans for established customers, Shindler finds and meets potential new customers. He talks with them about their business and discovers the goals that are in place for the business.
Shindler is not new to the agricultural community. "I grew up outside Rosalia on a dry land farm," he explained, stating that background helps him better understand the industry. He is able to relate with customers and provide them insight to the benefits of working with his company.
He attended college and worked for Lamb-Weston for a short period of time before changing careers to become a relationship manager at Northwest Farm Credit Services three years ago.
"I was a production supervisor and that job didn't give me as much interaction with the farmers," said Shindler.
Serving in his current role, Shindler works directly with farmers and feels the financial side of the industry is a comfortable fit for him.
"This is much closer to agriculture, providing me the opportunity to be more involved in the ag community and the community at large," he said.
Shindler went on to say he is also provided insight into what is happening in the various fields of agriculture.
"I relate well with the customers and understand their needs," he stated.