Wednesday, February 18, 2009
/lk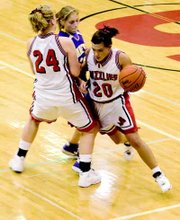 The Sunnyside High School girls basketball team woke up in the second half of its last regular season game last night with the Hanford Falcons, but unfortunately the hole the Lady Grizzlies dug for themselves proved to be too deep.
Hanford rode out a 27-point halftime lead to beat Sunnyside 69-39 and will now host the Lady Grizzlies in a loser-out District game Thursday, Feb. 19, at 7 p.m., at Hanford High School in Richland.
Last night's game started horribly for the Lady Grizzlies.
"It was ugly," Sunnyside Coach Eric Berg said. "It's the same old story we've had all season long. We're a slow starting team."
Hanford also held the height advantage and Berg said that Hanford's Laura Hughes and Jorie Freemon used this advantage to push the Sunnyside players away from the basket to grab offensive and defensive rebounds. Berg said at one point in the first quarter of play the Falcons recovered five offensive rebounds in one set.
"They were getting a ton of scoring opportunities," Berg added. "If we can limit them to one shot we could have been in the game."
Five of Hanford's 21 first quarter points came from the outside. Everything else was scored from inside the paint.
"Our defense in the first half was not what I wanted to see in our last home game of the season," Berg said.
Because the Lady Grizzlies saw their shot opportunities limited in the first half, Sunnyside only managed to score five points in the first period and eight points in the second.
At halftime Berg said he challenged his team to come out and show Hanford what they were made of. The Grizzlies answered the call and came out and played well. Hanford still outscored the Lady Grizzlies in the second half but only by three points, a huge improvement from the first half.
Sunnyside was led by senior Katie Wutzke, who scored 16 points in her last home game as a Grizzly. Wutzke scored on two three-point shots and earned the rest of her points at the free-throw line, where she was 10-for-12.
Teammate Toni Castillo added seven points for the Grizzlies, all in the second half.
"She had a solid second half," Berg said. "She played well."
Sarasa Partida scored five points for the Grizzlies and senior Megan Tyler had three points. Destiny Maya, Alina Villa, Jessie Robert and Hannah Marro all had two points for Sunnyside.
Hanford was led by Hughes with 17 points and Freemon with 12. Jess Heiman added 12 points for the Falcons.
Sunnyside finishes the regular season at 1-11 in league play and 2-18 overall.