Tuesday, December 22, 2009
/lk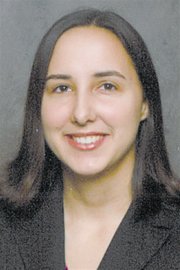 GRANDVIEW - Briana Herrington, a staff accountant with LeMaster Daniels in Grandview, has passed her CPA exam.
Herrington received her CPA license in October and says the accomplishment required nine months of study to complete the four sections of the CPA exam.
As a staff accountant, Herrington does a lot of work in the areas of taxes and auditing. The CPA license, she said, is a requirement to advance with the LeMaster Daniels firm.
Herrington says her goal is to advance to the level of senior accountant with the firm.
Accounting is a family trade for Herrington, a 2003 grad of Kiona-Benton High School. Her mother teaches business education at Ki-Be and an older sister has a degree in accounting.
Herrington, who still lives in Benton City, earned both a Bachelor's degree and a Master's in Professional Accountancy at Central Washington University before joining LeMaster Daniels in 2008.
With her successful completion of the CPA exam, Herrington said she'll have time to do some traveling.
"I think I'll be doing some traveling to see some friends that have been a bit neglected," she said.
When asked about the best part of having the test behind her, Herrington said, "Well, I'll never have to worry about taking it again!"