Friday, October 31, 2008
/lk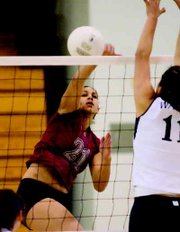 GRANDVIEW - The Grandview High School volleyball team appears to be in playoff shape as the squad dispatched the Wapato Wolves last night in three games.
The Greyhounds easily won 25-18, 25-7, 25-6 to pick up their 11th win of the season. Grandview, who is already assured a first-round bye in the District tournament, will finish its season Monday, Nov. 3, when they host the Othello Huskies at 7 p.m.
The Greyhounds seemed a bit distracted in the first game of last night's match. Grandview Coach John LaFever said it was senior night and his team got off to a bit of a slow start.
"We could have played better," he said. "There was room for improvement."
Even so, the Greyhounds held a modest lead throughout the game and then pushed hard to finish it.
It wasn't even close in the final two games of the night. LaFever called it a total team effort.
Kinzi Poteet finished with 10 kills, 12 digs, nine service points and four aces for the Greyhounds. Her teammate, Meghan Smasne, recorded 12 kills for Grandview, adding one block and one dig.
Vanessa Medina had 11 digs, 24 assists, two kills, 16 service points and one ace for the 'Hounds. Kaitee Eucker added one kill, two blocks and five assists.
Grandview's Sydney Mottice finished with six kills, three blocks and eight digs. Teammate Haley Smasne had six kills, 11 service points, one ace and six digs. Gabby Sauve added six digs.
LaFever said he is happy with where his team is at, saying they are in good shape for Districts.
"We're ready to go," he said.