Monday, November 24, 2008
/lk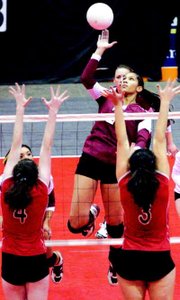 KENNEWICK - The Grandview High School volleyball team went 1-2 at this past weekend's 2A State Tournament held in the Tri-Cities, losing to eventual State champion Tumwater and fourth-place Pullman.
"I guess it just wasn't meant to be," Grandview Coach John LaFever said. "They were better than us."
The Greyhounds traveled a rough road as they attempted to place at this year's State tournament. The eventual first, third and fourth place teams were all in Grandview's bracket.
Grandview rallied for its first and only win at the tournament on Friday, getting past Archbishop-Murphy High School 16-25, 27-25, 25-12, 25-13.
LaFever said Archbishop-Murphy was tough in the first game.
"They came out and dictated the game," he added.
The second game of the match proved to be just as tough but Grandview made some great plays. Down 23-21, the Greyhounds held tight and came back for the win.
After that it was all Grandview as the Greyhounds won easily in the third and fourth games.
"It was a real interesting match," LaFever said. "Everyone took a turn at making a play. The whole team just put a lot of things together."
Once past Archbishop-Murphy, the Greyhounds set their sights on Tumwater High School on Friday night, but lost in four games to the eventual State champions.
"They just had a few more guns than we did," LaFever explained. "A little more rounded athletically."
Grandview lost the first game 25-17 but came back and won the second game 25-22.
Tied at 22 apiece in the second game, LaFever said the Greyhounds were able to pull away for the win.
In game three, Tumwater pulled out a 25-18 win against the Greyhounds.
"It was close but they (Tumwater) just made the plays they needed to," LaFever said. "We didn't have an answer."
Grandview lost the fourth game 25-12.
The loss set up a match against Pullman High School for a chance to play in the fourth-place game on Saturday.
Pullman pulled out the win by beating Grandview 25-14, 26-28, 25-18, 25-17.
LaFever called Pullman the second best team at the tournament, adding their players were very young and very tall.
"They basically pretty much controlled the match," LaFever said. "They were well-rounded and had good balance throughout their team."
A bright spot occurred Saturday night before the championship game between Selah and Tumwater when LaFever was honored and inducted into the WIAA Volleyball Coaches Hall of Fame.
"It was kind of interesting," he said of being honored.
By LaFever's count, he has 402 volleyball wins in the 16 years he's been coaching the Greyhounds.
"I would have traded it for a couple of wins here, but it was nice," LaFever said.
LaFever pointed out the play of Sydney Mottice, Kinzi Poteet and Vanessa Medina.
"Mottice had a very good tournament," he said. "She played extremely well in all of our matches."
LaFever didn't have complete stats for the tournament but said Mottice ended up with 33 kills in her first two matches, Poteet had 29 kills in the first two matches and Medina recorded 56 assists in the first two matches.
"It was a good season," LaFever added. "We played about as well as can be expected. Seventy-five percent of our team was first year varsity players. We had a lot of young players but we did a lot of good things."
Including tournament play, the Greyhounds finish with a 24-7 record.