Wednesday, May 21, 2008
/lk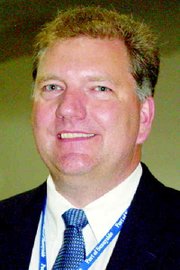 The city of Sunnyside has its new city manager in Eric Swansen, most recently village manager of Yellow Springs, Ohio.
Negotiations on a contract with Swansen were concluded this morning by the Sunnyside City Council, which will make the hiring selection official next Tuesday, May 27.
Fifteen years experience in city manager and administrative positions was one plus Sunnyside saw in hiring Swansen, according to Mayor Paul Garcia in a press released issued this morning by the city.
Prior to Yellow Springs, Swansen, 42, served as city manager for Farmersville, Calif., and worked in administrative capacities for the cities of Shoreline, Lacey, as well as Deschutes County in Oregon.
"He brings to Sunnyside established experience in fiscal management, partnerships with community organizations and creative interaction with citizens and neighboring communities," Garcia said in the press release.
The Illinois native has a Master's in public administration from the University of Washington and an undergraduate degree in political science from Pacific Lutheran University in Tacoma.
While in Sunnyside last week as one of four finalists for the position, Swansen said he sees the Sunnyside position as a way to return home to Washington.
"We are really excited," Swansen said this morning. "This is a great opportunity. It's wonderful to be part of a community that really has a lot going for it. We're just excited to be a part of it."
Swansen, who resigned his post with Yellow Springs this past Monday, said he and wife Shelley will get settled in Sunnyside in time for him to start work at city hall the last week of June.
He said he doesn't have an agenda for his first weeks in the city's employ.
"I think the first thing is to take time and listen," he said. "I'll spend a lot of time listening and hearing the concerns that people have and what they see as their vision for Sunnyside."
Council had hoped to have a contract with Swansen ironed out last night following an executive session. As far as negotiations continuing into this morning, Swansen observed, "We really didn't have a lot of issues. There's just a lot of detail that goes into an agreement and making sure everybody is happy."
Some of the details of Swansen's contract include a $95,000 annual salary and a police radio for his car. "He wanted access to be able to know of emergency incidents," city attorney Mark Kunkler said of the radio.
Kunkler noted that Swansen's contract calls for a six-month severance package instead of the nine-month arrangement previous city manager Bob Stockwell had when he resigned last September. Stockwell's annual salary was $116,000 at the time he left the city's employ.
Kunkler has been wearing two hats since Stockwell's departure, including that of interim city manager. "I'm looking forward to having Eric here," he said.