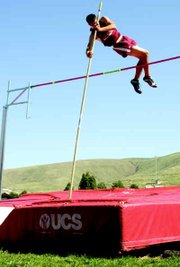 PROSSER - This past Saturday the Central Washington Athletic Conference South Sub-District competition was in Prosser. Competing in the meet were Grandview, Prosser, Toppenish, Wapato and East Valley of Yakima.
Six Grandview athletes earned top honors at the meet.
Jordan Sanchez ran in the 1,600-meter run in a first place time of 4:46. Grandview teammate Koty Kollmar earned runner-up honors with a time of 5:11.20 in the event.
Joseph Babcock of the Greyhounds landed the first place mark of 42-7 in the boys triple jump. Teammate Storm Shea earned fourth place honors in the event, leaping 37-4.
In the girls triple jump, Lady 'Hound Kealey Johnston leapt for first place honors with a distance of 32 feet. Erika Sillanaukee, also of Grandview, earned fourth place honors with a mark of 30-3.75.
Anna George of Grandview hurled the javelin 120-10 for top honors and teammate Kinzi Poteet earned runner-up honors with a distance of 101-8.
George was also recognized as the CWAC South female field athlete of the year at the meet.
She joined Johnston, Emily Caraway and Krystal Martinez on the Grandview 4x200-meter relay team, earning another top finish for the Lady 'Hounds with a time of 1:52.38. Toppenish finished behind them in a runner-up time of 1:53.90.
George earned runner-up honors in the shotput and the discus. In the shotput, she threw for a distance of 33-4. In the discus, her mark of 119-10 was more than 10 feet short of the first place distance thrown by Prosser's Ana Zapien.
Johnston earned runner-up honors in the girls long jump, leaping a distance of 15-3.25. The first place mark made by Prosser's Jordan Brown was 17-1.
Keagan Christensen of Grandview earned runner-up honors in the boys discus, throwing a distance of 122-2, nearly 24 feet short of the first place mark thrown by East Valley's Jonathan Buchanan.
In the 3,200-meter run, Greyhound Jose Mendez earned runner-up honors with a personal best time of 10:32.60. He finished behind Toppenish's Ben Villanueva, who completed the event in 10:20.60.
Grandview Coach Jared Lind said he was impressed with the personal best performances of Matt Concienne, who earned third place honors in the 110-meter hurdles with a time of 16.66. In the 300-meter intermediate hurdles, he earned fifth place honors with a finishing time of 42.43.
Lind said Martinez had a personal best in the 200-meter dash with a time of 28.38. The performance earned her third-place honors, and Caraway, Martinez's teammate, earned fourth place honors with a personal best time of 28.43 in the event.
Lind said the Grandview team is preparing for this coming Friday's District competition to be held in Quincy.
"We had a lot of kids qualify for Districts. Some of them will compete in their first District meet," he said, stating he is excited to watch the Grandview athletes finish the season strong.
The top eight finishers in last Saturday's events will advance to District competition and the top three performers in each event at District will advance to State.