Friday, March 14, 2008
/lk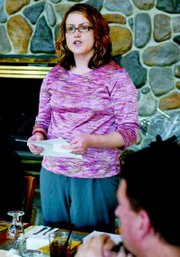 Being a volunteer provides many benefits to people. It can help them feel like they are making a difference. Volunteering allows special skills and talents to be displayed. It enhances personal growth and self-esteem and according to Natalie Curfman, volunteering two to three hours a week can even make people live longer.
"It gives them a sense of purpose, of giving," said Curfman, program director of Volunteer Chore Services in Sunnyside.
Curfman was the guest speaker at yesterday's (Thursday) Sunnyside Chamber of Commerce meeting, where she spoke about the volunteer program.
Volunteer Chore Services is a program of Catholic Family and Child Service, a division of the Diocese of Yakima.
"Our mission is motivated by Christ's love," she told the chamber members. "We bring hope to life, especially for those most in need."
Volunteer Chore Services volunteers provide concrete things to the elderly and the disabled, such as transportation, yard and house work, and building of wheelchair ramps.
"We help our elders and adults with disabilities live safely and independently," said Curfman.
She gave examples of what the program does. Curfman spoke of a woman in her 70s who has worked in the fields her whole life. Because she is illegal, she doesn't have any benefits. Volunteer Chore Services provides her with transportation and helps her locate resources that are available to her.
Another example she gave is of an elderly couple in their 80s with a big yard. Since they are up in age they aren't able to keep up with the weeds and the leaves. Program volunteers help the couple.
Volunteer Chore Services has been around since the early 1980s. State budget cuts in 1981 to the paid chore program produced a grassroots effort by churches to begin organizing volunteers. Volunteer Chore Services was born out of this movement.
Curfman said the program can use volunteers with all skill levels and accepts volunteers and clients from all faith backgrounds.
There is an application process involved, which includes a Washington State Patrol background check, three personal references and a 30-minute orientation.
Those wishing to volunteer their services or those looking to benefit from the services offered can call Curfman at 839-8260, or stop by the office at 320 N. 16th Street.