Thursday, March 13, 2008
/lk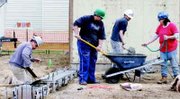 Housing construction was a big factor in new building starts within the city of Sunnyside during the month of February.
City officials issued permits for four new homes with a combined value of more than $670,000, an average value of nearly $180,000 each.
The four homes alone accounted for most of the $1.012 million in construction permitted during February. Three of the homes are being built on Bountiful Avenue by Vancouver-based Aho Construction. A fourth new home is being built on Villa Real Drive by Hatfield Construction of Prosser.
Sunnyside city coffers received just over $12,500 in fees for February construction, with almost $7,000 of that generated by the four homes.
Besides the four new residential projects, the city also issued permits for six signs that had a total estimated value of $60,000. The largest was a new sign for Sunnyside Community Hospital valued at $30,000.
City coffers netted about $1,700 in fees from the six new sign permits.
Another residential-related project that got the thumbs up in February was at the Sunnyside Housing Authority's complex on Federal Way. The project permitted there, valued at $117,728, will upgrade the community center with new carpet, paint and an air conditioning system. Also planned is an addition to a shop building.
Four existing buildings are due for alterations or additions as permitted in February. The renovations have a total valuation of $60,000, with more than $1,600 in fees generated for the city coffers.