Wednesday, March 12, 2008
/lk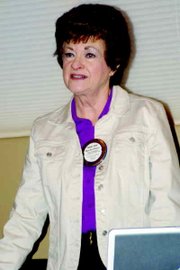 Once a turkey plant, Valley Processing, Incorporated has become a leader in the juice industry, according to company President Mary Ann Bliesner.
She explained the company's importance to the juice industry to Sunnyside Daybreak Rotary Club members Wednesday, saying the clients of Valley Processing are juice bottling and jelly companies throughout the U.S.
Naming just a few of the company's clients, Bliesner said popular juice brands such as Langer's, Safeway, Jamba Juice and Kroger juice products begin in Sunnyside.
"We are family owned and operated," she said, stating that Valley Processing employs 65 people, producing a quality product.
She said juice bottlers look for companies with a large production capacity and a variety of pure, pasteurized and filtered juice products.
Bliesner said the company maintains a close relationship with its growers, and that relationship has contributed to more than 20 years of success. It has helped Valley Processing to expand from grape and apple processing to include a variety of berries and other fruit with state-of-the-art processing equipment.
She said the location of Valley Processing also plays an important role in the company's success. "We are within an hour drive of the raw product," said Bliesner.
She said the company is also near railroad access to assist in the transportation of its product.
Because Valley Processing believes in a quality product, the company provides 100 percent natural juices with no additives. Bliesner said the company has been certified organic and kosher, allowing it to reach a broader consumer base.
In addition to juices, the company produces concentrates, purees and essences. She told the Rotarians that Valley Processing uses "heat under vacuum pressure" to produce its concentrates, which are primarily sugar solids consisting of a heavy syrup.
The product is shipped by tanker in either 52 gallon drums or five gallon pails, according to Bliesner.
The company began producing purees in 1999. She said purees are used in jams and smoothies, which have become a popular beverage throughout the years.
Essences are a clear liquid used for flavoring. Bliesner said it takes 150 gallons of juice to produce one gallon of essence. The essence is often used as a natural flavoring in beverages and other products.
In addition to processing raw products for its clients, some growers wish to maintain ownership of the juices. Therefore, Bliesner said Valley Processing will provide a service called toll processing. This allows the grower the ability to add value to a crop and sell it at a higher profit than they would obtain by selling the raw product.
She said several organic companies are unable to process their own juices. Valley Processing also processes for these companies to produce a high quality organic product.
Bliesner said quality continues to be of high importance to Valley Processing and the company continues to keep up with the advancements in the industry. Most of the processing is done via automated equipment that is monitored by its employees.