Monday, January 28, 2008
/lk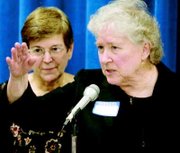 Nuestra Casa hosted a dinner this past Saturday night at Our Savior's Lutheran Church in Sunnyside to thanks its board of directors, development committee, staff and donors for all their support over the past year.
Nuestra Casa was formed five years ago to serve Hispanic women in the community. Sister Mary Rita Rohde, director of Nuestra Casa, said approximately 250 women were served that first year in 2003. More than 900 women were helped in 2007.
"Tonight we really want to thank all of our volunteers, donors and collaborators," Rohde said. "Nuestra Casa would not be possible without all of them."
The evening started with a catered dinner and then two women who have benefited from Nuestra Casa spoke about their experiences.
Emma Bueno de Mendoza, a mother of five, said she started attending classes offered by Nuestra Casa in 2004. It was there she learned of citizenship and GED classes offered at Nuestra Casa.
Mendoza said she was able to become a citizen and earn her GED in 2005 with the help of Nuestra Casa.
In 2007 with the help of Nuestra Casa, she got her driver's license.
"I am very grateful to Nuestra Casa," she added.
Another woman, Maria Luisa Gonzalez, said she began taking English classes at Nuestra Casa and became a United States citizen last year. She thanked Rohde, whom Gonzalez said is very patient.
Rohde revealed a surprise to staff and donors who were present. She said five donors donated $5,000 for a total of $25,000 for a back-up fund for the organization.
A candle was given to everyone who attended the dinner.
"You have helped us light so many candles," she told the donors.