Friday, August 15, 2008
/lk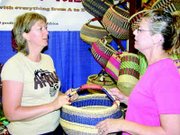 A trip to Africa for a Sunnyside woman sowed the seeds for an effort to help the children of that impoverished area of the world.
"The need is so great," said Kim Aleman, founder of Africa's Kidz. "A thousand children are orphaned every day in Africa due to AIDS."
Aleman spent six weeks in South Africa and Malawi last January. What she saw changed her life.
"When I came home I decided I needed to help these children in Africa," Aleman explained.
So she started Africa's Kidz. Through this project she sells African-made products such as baskets, jewelry and hand carvings. All profits go back to Africa to help the children.
She said most of the money goes to Doctors for Life in South Africa but a portion also goes to the Tiyamike Mulungu Center, the orphanage where Aleman spent time in Malawi.
Aleman and her two daughters travel to fairs to sell the items. They also appear at special shows and have set up a website, www.africaskidz.com, to sell their wares. There is also an online store on ebay.
Aleman said she started towards the end of May and so far things have been going good.
"I've had a great response," she added.
Aleman also solicits $5 donations for mosquito nets. She said a child dies every 30 seconds in Africa due to malaria. The nets cost $10 and are distributed by Compassion International.
A fact sheet on Africa's Kidz' website states that today in Africa 32 children will die every second from starvation and malnutrition. More than two million people will go to bed hungry, with 821,918 of those children. Also, one child will die every minute from the measles. A measles vaccine is $1.
"The American dollar goes so far in Africa that it doesn't take much to help," she said.