Thursday, April 24, 2008
/lk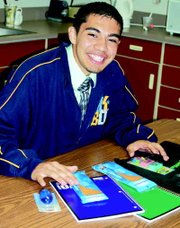 One Sunnyside High School senior project reaches the fashion world, the other is going around the world.
The projects, by Nicole Wind and Adrian Chacon, respectively, are two of 260 or so that seniors will be presenting next month as part of the school district's graduation requirements.
Holly Ohler is a vocational director for Sunnyside High School, and she says the projects require students to find a mentor in a specific industry to guide them through the process. The effort includes an evaluation provided by the mentor.
Wind's project involves a shoe/sandal that she developed with assistance from mentor Mauntrece Zamzow of Nordstrom in Seattle. Much of the mentoring time, Ohler said, was via e-mail between Seattle and Sunnyside.
Zamzow's mentoring not only included advice on developing the footwear product-which Wind calls Klaasje (pronounced "clasha" in honor of her grandmother's Dutch family name)-but in actually having Nordstrom produce a prototype of the shoe. The design is Wind's, as is the material and gold color of the shoe.
Wind said she decided to pursue a fashion product because she has been interested in the industry most of her life. Her plans beyond high school include community college and, possibly, working for Nordstrom's Seattle store.
Chacon's project will distribute school and hygiene materials to 25 needy elementary school aged students in Peru. Chacon said he heard there was a need in Peru and was encouraged by his teacher to pursue the project. Chacon's mentor is Mary Johnson of Yakima and he credited her help in guiding him through the project.
Chacon said a church group will help him make sure the packages get to the appropriate students.
One of the most intriguing aspects of his project is that Chacon is funding it with his own money. He figures it will cost about $100.
"He's been working real hard at McDonalds," Ohler said in praising Chacon.
Ohler praised both seniors for "thinking outside the box" in reaching out to mentors who live outside of the Lower Valley. "We tend to think locally," she said.
That's not to say local input isn't welcome. In fact, Ohler says she needs about 100 volunteers to help judge the student presentations over May 12 and 13. A catered dinner will be provided for judges from 5 to 6 p.m. both evenings, followed by student project presentations from 6 to 8 p.m.
To help judge the high school senior projects, call Ohler at 836-5828 or via e-mail at hohler@sunnyside.wednet.edu
&nbsp