Thursday, April 24, 2008
/lk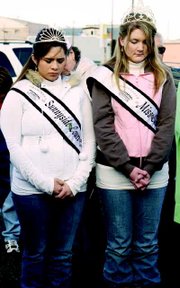 Statistics show that one in four girls and one in six boys will be sexually abused before their 18th birthday.
Hoping to bring awareness to these facts and hopefully reverse the trend, officials from Lower Valley Crisis and Support Services in Sunnyside organized a candlelight vigil last night at Central Park.
"We're here to bring awareness to sexual assault in our area," Estella Patterson, a sexual assault counselor at Lower Valley Crisis and Support Services, said.
She also noted that April is sexual assault awareness month.
Cornerstone Church Pastor Bob Widmann said during his opening prayer that each sexual assault creates a ripple effect that affects communities as a whole.
"We can make a difference if we come together," he told the gathered crowd.
Sunnyside Police Chief Ed Radder recalled how far Lower Valley Crisis and Support Services has come since the agency first came to Sunnyside. He said before they came there was nothing for victims of sexual assault.
He even noted that not too back in the distant past if a victim of sexual assault wanted to report a crime in Yakima County they had to take a polygraph test.
"It was the only crime where you had to prove you were a victim," he said.
He credited officials at Lower Valley Crisis and Support Services in getting that changed.
Radder encouraged those in attendance to listen and care.
"Let the youth know that you care and the rest will follow," he said. "You're here for a reason, because it matters and you care. We can make a difference. If we didn't believe that we wouldn't be here."
Angeline Phillips, a counselor facilitator with the Yakama Nation Domestic Violence Program, asked the crowd to learn about intimate partner sexual assault.
"Is it wrong for some involved in an intimate relationship to say no to their partner when they don't want to be sexually active," she asked.
She left those gathered with a challenge.
"I challenge you today to take a stand against sexual assault," she said. "Listen to your sister, daughter, mother, neighbor, relative or friend when they confide in you about an act of sexual assault, be it from their spouse, family, relative or friend. Listen to the victim and get them help as soon as possible."
She then listed several organizations in Yakima Valley that can help.
Sunnyside Police Officer Melissa Rodriguez implored people to get involved, noting there are not enough people advocating for the victims of sexual assault.
"It's such an ugly crime, no one wants to know about it," she said.
Recalling her experiences on the police force dealing with sexual crimes, she said, "Sometimes you go home and say, oh my god, the monsters are real."
Glow sticks were then passed out to the crowd to represent candles and the spectators walked from Central Park to the downtown gazebo and then back to the park.