Friday, September 14, 2007
/lk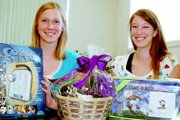 Come Oct. 3, sisters Jessica and Caitlin Aleman will head off to South Africa to help children in need. In order to help these children, the sisters are sponsoring the Tee-Off for Africa glow in the dark golf fundraiser at Granger's Cherry Hill Golf Course.
The girls are working with the Doctors for Life organization.
"We've always wanted to go to Africa, but just finding the right organization was difficult," said Jessica. But after talking to a friend who'd traveled as part of the Doctors for Life team, the Aleman sisters had a hunch that this was it.
"They've been easy to deal with and incredibly helpful in getting us set up," she added.
Mostly, the sisters (and Jessica's college friend, Meighan DeDood) will be working with children.
At one orphanage where they'll be working, one in three of the children have AIDS. And, adds Jessica, "They've all been orphaned by AIDS. Most of (the children) have grandparents that are too old or too poor to take care of the kids."
The sisters said that Doctors for Life has made great strides in bringing anti-retroviral treatments to impoverished areas in South Africa, which has an incredibly high AIDS rate.
"There's a lack of knowledge there as to how to prevent the spread of AIDS," said Jessica. "South Africa has the highest percent of AIDS victims in the entire world; 16.7 percent of children in the country are orphans and 70 percent are orphaned because of AIDS."
One orphanage they'll go to is home to 128 kids from ages birth to 17 years. "We'll be caring for kids, teaching and helping the missionaries with everyday stuff," said Caitlin.
On the last leg of their trip, they'll be in Kenya and Rowanda. In Kenya, they'll work at a baby orphanage. In Rowanda, the sisters will serve at an orphanage where many of the kids have been left parentless following genocide attacks.
Are they up to the emotional challenge?
"We've been told there really is no way to prepare," said Jessica. Caitlin added that the friend that went there told her "some scary stuff."
Added Caitlin, "It's real life. These little kids are sick. We know when we leave there we'll never see them again. They may not live another year or to see their 16th birthday."
The sisters said their trip and all of their expenses are paid. All of the proceeds from the golf tournament will be taken to Africa to help those they'll be working with.
The Sept. 29 golf tournament is being organized by family friend Mark Van Hollenbrook. "We know nothing about golf," said Jessica. This prompted the two to laugh about the fact that it's holes of "glow in the dark golf." Said Caitlin, "We're banking on the fact that no one will be able to see us."
Cost to participate is $75 per person, which includes nine holes of golf, dinner and 20 raffle tickets for the prizes the girls have gathered from local businesses.
The event begins at 6:30 p.m. and golfing begins at 8 p.m.
For more information, call 509-854-1800.