Wednesday, September 5, 2007
/lk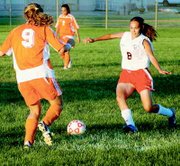 The 3A Sunnyside High School girls soccer team had its opportunities, just not enough of them in a 5-2 season opening loss at home last night to 4A Davis.
The visiting Pirates struck in the 12th minute to take a 1-0 lead and never looked back.
Sunnyside knotted things up in the 23rd minute when Sasha Castro scored a goal after the Davis keeper knocked down a previous shot attempt.
The Lady Grizzlies joy was short lived as about one minute later Davis' Trinidad Ceballos burst through the Sunnyside line and floated in a goal from the left to put the Pirates up for good at 2-1.
"It seemed like we got excited and they ran the ball back down," Sunnyside Coach John Soule said of Davis' quick response.
Davis attacked for an insurance goal just before half-time to make it 3-1. Sunnyside had an opportunity just before the half on a penalty kick, but Castro was unable to knock it past the Davis keeper.
The Pirates kept up the pressure with two more goals in the second half, before Castro closed out the scoring with a goal in the 88th minute.
Soule said he was more pleased with his team's play in the second half.
"We were able to play a game more like we wanted to," Soule said of the Lady Grizzlies' strategy in defending Davis with a zone strategy instead of one-on-one play. "We applied more pressure. We didn't give up."
Sunnyside (0-1) opens league play this Saturday at home against Southridge.
Soule said he wants to see his squad continue the solid play from last night's second half against Davis.
"We just have to continue to stick to our game plan and learn, as we are a young team," he said. "We have to trust each other."