Tuesday, October 30, 2007
/lk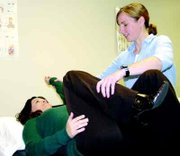 Physical therapist Marlene VanWingerden noticed a need to address women's health issues in the Lower Yakima Valley and has devised a new program focused on those issues.
She, along with massage therapists Penny O'Brien and Diane Affholter work at Sunnyside Physical and Sports Therapy on East Edison Avenue. The three have joined forces in creating a physical therapy and massage program to help women who are pregnant, who have been pregnant or are in need of physical therapy to strengthen abdominal muscles.
"We want to also help women suffering from pelvic pain and incontinence," VanWingerden stated.
She said women don't like to talk about the issues of suffering from pelvic pain or incontinence. However, the issues can become difficult for everyday living.
Therefore, she has devised the women's health program to help strengthen the abdominal muscles, alleviating some of the discomfort that accompanies the two afflictions.
"It could be as simple as modifying how housework is done or posturing education," she said of ways to help improve abdominal strength.
One exercise she recommends is what she calls the "dead bug." In lying flat, lifting the knee toward the chest and raising the opposite arm above the head, the alternating exercise can strengthen abdominal muscles, helping alleviate pain and discomfort. In addition, a woman can develop a flatter tummy area.
VanWingerden stated, "Some women don't even know their muscles are weakened until they are pregnant with another baby."
But, keeping the abdominal muscles strong can help prevent difficulties in carrying a child both during pregnancy and postpartum.
Another issue women are often afflicted with is scarring from a hysterectomy or cesarean section. The scarring, according to VanWingerden, can also cause pelvic pain.
Because she believes she is the only female physical therapist between Yakima and the Tri-Cities, VanWingerden feels the program is a good fit for her practice. She said, "A lot of women feel more comfortable seeking advice from another woman."